Why US Army Veteran Invested in Becoming A Concrete Craft Franchise Owner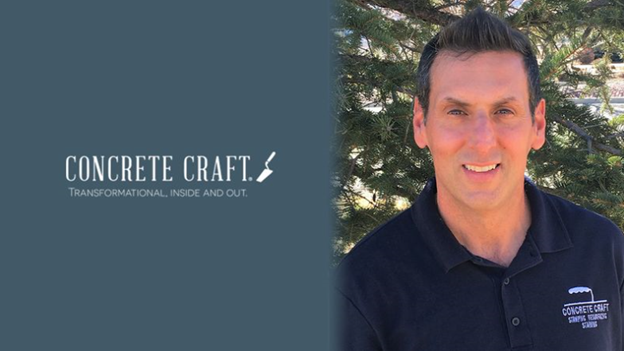 Concrete Craft is a decorative concrete design solutions franchise that is owned by Home Franchise Concepts (HFC). HFC has helped a network of over 1,400 owners realize their dream of owning a low-cost, home-based franchise in the home services industry. Concrete Craft was founded in 2014 after HFC acquired All American Decorative Concrete and began franchising as the nation's only decorative concrete franchise.
Franchisee Mark Sisco has been with the brand for three years, working and residing in Colorado Springs, Colorado with his wife Ramona. After 26 years of military service, he retired in 2017 from the U.S. Army as an Aviation Officer.
While he enjoyed his military career immensely, he felt that the logical next step after retirement was to go into business for himself as an entrepreneur. "I wanted to own my own business, but I've always been a hands-on kind of person and wanted to explore my artistic side a bit more," said Sisco. "I enjoy working in material and creating things, which was definitely on my mind as I started looking into different business models."
Sisco initially worked with a franchise broker but was contacted by Aaron Cady of Concrete Craft directly. "He provided me with a real wealth of information about the opportunity," said Sisco, who soon got to know co-founders John Kostro and Dan Lightner as well. "I had a tremendous amount of respect for Dan and John. I was really impressed with what they had done, and I felt I could be a contributing member to their team."
Sisco has been an avid supporter of the brand ever since and is coming up on his three-year anniversary in April of 2020. Colorado Springs in particular has been an excellent market for the brand's offerings of stamped concrete, stained concrete and decorative concrete overlay services for both residential and commercial properties. "Like most of our nation right now, Colorado Springs is experiencing tremendous positive economic growth," said Sisco. "Building and construction in general is really taking off. It's a great city to be a part of, and it's poised to grow exponentially in the coming years."
While Colorado Springs isn't a large metropolitan hub, the expansiveness of the territory itself has afforded Sisco ample business. "My franchise covers pretty much all of Colorado Springs. Geographically we're in a great position, but I'm always looking for new opportunities for expansion," said Sisco.
Aaron Cady, Director of Franchise Licensing for Concrete Craft, echoed Sisco's sentiments about the value of franchising with Concrete Craft, while also pointing out the brand's other benefits including low overhead, family-friendly scheduling and multiple revenue streams.
"We are the only franchise in this category of decorative concrete services, which gives us a huge advantage on the market," said Cady. "We are always looking for qualified candidates who can follow a process. Self-starters are ready and willing to work hard will do well with Concrete Craft. We are not necessarily looking for those with experience in concrete work—we are looking for more of a business owner, not a contractor."
Learn more about the Concrete Craft opportunity or any of the Home Franchise Concepts family of brands by calling 1-800-420-5374 to speak with one of our franchise licensing advisors.