Why Franchising with Concrete Craft is the Ideal Opportunity for Veterans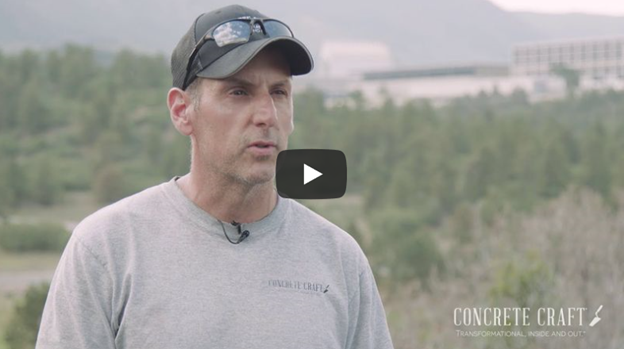 Mark Sisco, a retired 26-year-old U.S. Army Aviation Officer, made the decision to leave the service in 2017and go into business for himself. Hear what he has to say about one of his latest projects here.
For veterans Mark Sisco of Concrete Craft of Colorado Springs and Patrick Godfrey of Concrete Craft of Charlotte, North Carolina, entering the world of franchising seemed like the perfect entrepreneurial opportunity to pursue after leaving military service, and for both, decorative concrete concept Concrete Craft was the right fit.
The decorative concrete brand, which operates under the umbrella of parent brand Home Franchise Concepts (HFC), specializes in stamped, stained and restorative concrete services for both residential and commercial properties. Recently ranked among Entrepreneur's Hottest Industries Today, Concrete Craft has grown to more than 60 territories across the U.S. and Canada with the help of veterans like Sisco and Godfrey.
Sisco, a retired 26-year-old U.S. Army Aviation Officer, made the decision to leave the service in 2017. Though he enjoyed his time in the military, he felt the next logical step for him was to go into business for himself.
"I wanted to own my own business, but I've always been a hands-on kind of person and wanted to explore my artistic side a bit more," said Sisco. "I enjoy working in material and creating things, which was definitely on my mind as I started looking into different business models."
Godfrey, who retired from the Navy to work in manufacturing 14 years ago, shared a similar sentiment about the nature of the business. He said that the attention to detail concrete work requires makes franchising with Concrete Craft the perfect fit for veterans.
"To me, Concrete Craft feels like a good fit for veterans because the nature of what we're doing requires someone to pay close attention to detail," said Godfrey. "It's decorative work, and that comes with nit-picky customers. Attention to detail is something the military really conditions you for. I've had a lot of success hiring veterans as employees because of that personality trait."
But that wasn't all that sold Godfrey on the opportunity. As someone who's been with the brand for 10 years now, he says it's the support from corporate and a network of other franchisees that have made this experience such a positive one for him.
"Having a built-in network of support has been key to my success with Concrete Craft," he said. "It's knowing that I'm not alone in a range of areas from emotional support to technical support — it's nice to have a shoulder to lean on. Being able to talk with other franchisees and feeling comfortable with Home Franchise Concepts has really made it worthwhile."
Looking ahead, Godfrey and Sisco both have plans to expand their footprints with the brand and keep up the buzzing decorative concrete momentum throughout North Carolina and Colorado.
"My franchise covers pretty much all of Colorado Springs. Geographically we're in a great position, but I'm always looking for new opportunities for expansion," said Sisco.
For fellow veterans and prospective franchisees of Concrete Craft, it's important to note that HFC is a proud supporter of the U.S. military across all of its brands — Budget Blinds®, Tailored Living® and AdvantaClean®. The franchise system offers up to $15,000 in discounts to active, honorably discharged and retired veterans who sign on.
"HFC takes so much pride in the number of veterans we're able to call business partners," said Jonathon Thiessen, chief development officer of Home Franchise Concepts. "We're happy to offer a promising entrepreneurial opportunity to those who have served our country at an affordable rate."
If you are interested in becoming a Concrete Craft franchise owner, our parent company, Home Franchise Concept (HFC), has been helping business-minded people build successful franchise businesses for over 25 years. Learn more about the Concrete Craft opportunity today. Or visit Home Franchise Concepts or call 1-800-420-5374 and speak with one of our franchise licensing advisors to learn more about any of our family of brands.