Why Dave Lytle Left the Corporate World to Franchise with Concrete Craft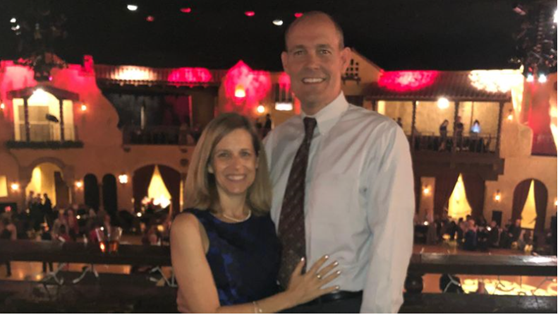 Concrete Craft, a part of the Home Franchise Concepts (HFC) family of brands, has been providing decorative and creative concrete solutions to its clients since 2006. The brand specializes in stamped, stained and decorative concrete for both residential and commercial properties. For franchisees, Home Franchise Concepts brands have provided an opportunity to invest in low-cost, home-based franchises in a network of over 1,400 owners operating across more than 10,000 cities. One of those franchisees is Dave Lytle of Indianapolis, Indiana.
Dave Lytle grew up outside of Chicago in Arlington Heights and met his wife Lesly at Indiana University, Bloomington. From 1996 to 2018, Dave worked in the elevator and escalator industry, but wanted to take the leap from the corporate world into the realm of small business. In October 2018, the Lytles joined Concrete Craft.
The process started in May 2018 when Dave contacted a franchise broker, Mark Roger, through FranNet. Both Dave and Lesly were familiar with the kind of personality assessments that franchise brokers offer from their time in the corporate world, and looked at a handful of different models in detail before deciding on Concrete Craft. While Dave transitioned to working for Concrete Craft full-time, Lesly has continued working part-time for a nonprofit in Indianapolis, Prevail, Inc., that advocates for victim of crime and abuse. Lesly also works part time installing decorative concrete.
According to Dave, the strength of the Concrete Craft leadership team was a huge factor when it came to signing on. "I was very impressed with the people behind the business," said Dave. "John Kostro and Dan Lightner are great leaders in this brand, and I can't say enough about what they've done for us. The training and support is more than I ever even excepted."
Another factor was the satisfaction customers felt upon the completion of a job well done. "If you can imagine being in the elevator and escalator industry for 22 years, the basic expectation is that they want it to run. If the customer was talking to you, 90% of the time it's because they weren't happy. I wanted to be in an industry where I could really make customers happy, give them something they would appreciate and see the results."
The Lytle's are especially happy to be opening a Concrete Craft franchise in Indianapolis, where they have lived for the last 11 years. With two boys in high school, they knew they didn't want to relocate.
"That was part of the reason for the departure from my old company," said Dave, who had taken several relocations in his corporate position. "We wanted to stay here because it is our home. Because we're the only franchisee right now in Central Indiana, we have quite a bit of territory that is open to us."
Dave went on to say that he hopes to continue to grow this business over the next decade. "We hit the higher end of our goals in year one, and in year two we're looking for some pretty significant growth on top of that," Dave said.
"Franchisees like Dave are part of what makes Concrete Craft so great," said Aaron Cady, director of franchise licensing. "It's a great opportunity for anyone looking to get into a home-based business with low overhead, flexible hours and no national franchise competition."
If you are interested in becoming a Concrete Craft franchise owner, our parent company, Home Franchise Concept (HFC), has been helping business-minded people build successful franchise businesses for over 25 years. Learn more about the Concrete Craft opportunity today. Or visit Home Franchise Concepts or call 1-800-420-5374 and speak with one of our franchise licensing advisors to learn more about any of our family of brands.