What to Think About Before You Buy Landscaping Franchise
The COVID pandemic has changed the way Americans work. Many people began remote working during the early days of the pandemic, and a lot of them never went back to the office, preferring the flexibility of working from home. But no matter where they do their jobs, many of these workers still spend the majority of their time sitting in front of a computer.
If you're an active person who enjoys being outdoors and are looking to change careers, you might have considered investing in a landscaping franchise. Landscaping is a reliable and steady business. The latest figures from the market data company Statista valued the industry at $105.4 billion in 2020, with IBISWorld projecting a value of $115.6 billion in 2022.
The potential customer base is wide, from older people who are no longer able to mow their own lawns to younger people who simply don't have the time or the desire to do the work themselves.
But before you invest in a landscaping franchisee, you need to know the potential downfalls associated with the business.
Stiff Competition
A lot of entrepreneurs are trying to take advantage of this growing industry. According to the market research company IBISWorld, as of 2022, there are 636,249 landscaping services businesses in the United States. That's a 3.4% increase since 2021 and a 5.5% increase in the past five years. And those numbers probably don't take into account the teenagers who spend their summers mowing lawns in the neighborhood. So, your landscaping business, even if it is a franchise will a well-respected name, will face a lot of competition.
Seasonal Work
Unless you live in a place where the climate is temperate year round, landscape work slows or stops altogether in the winter months. Even during the spring and summer, rainstorms can mean delays and lost business. The seasonal nature of the landscaping industry will not only impact your profits, it could also mean a higher-than-normal turnover in your employees as they seek steadier jobs. Plus, since summer is your busy season, you can forget about taking a summer vacation.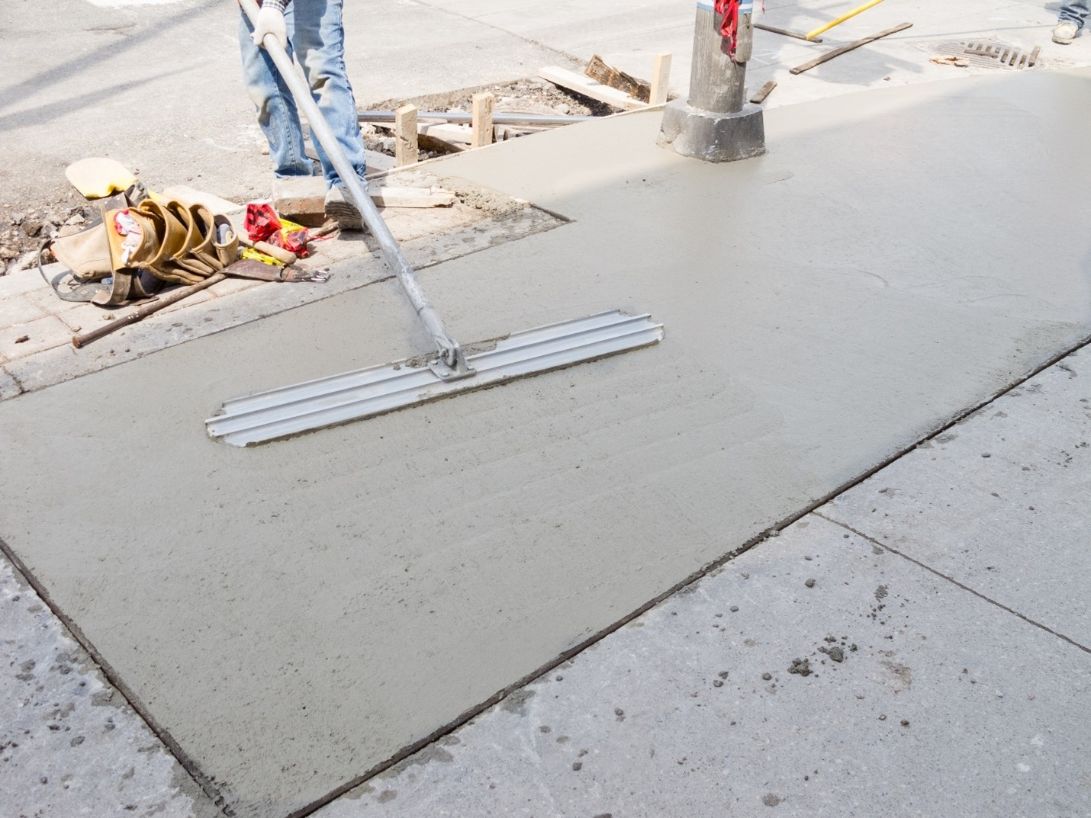 Why a Concrete Craft Franchise is a Better Option
Because of the stiff competition and seasonal work in the landscaping business, you may want to consider investing in a franchise with more of a niche market, like decorative concrete.
Concrete Craft is the only decorative concrete company franchising nationwide. Each of our franchisees gets an exclusive territory based on 100,000 single-family homes. No other franchisee is allowed to do business in your territory.
Experts in the Field
We are experts in everything having to do with concrete: stamped concrete, resurfaced concrete, stained concrete, even concrete repair and restoration. Our proprietary processes can make concrete look like more expensive materials such as stone, tile, brick, slate, and even wood. We've worked with homeowners and business owners to transform driveways, walkways, pool decks, countertops, fireplaces, and interior floors. All our franchisees are fully trained so they can deliver on all these services. And since we offer interior and exterior work, we stay busy all year, in all types of weather.
An Affordable Investment
The costs of becoming a Concrete Craft Franchisee are more affordable than those of a great many other businesses. The initial franchise fee is $69,950, plus you will need approximately $80,190 in additional capital. This means you can get started with Concrete Craft for a minimum investment of about $150,000.
Consider a Concrete Craft Franchise
Concrete Craft is part of the Home Franchise Concepts (HFC) family of brands. HFC puts all their energies and resources into helping people from all walks of life reach financial independence through owning their own business. HFC has a strong financial backing as a subsidiary of JM Family Enterprises, a privately held company with $18B in assets. As a Concrete Craft franchise owner, with HFC behind you, you get the strength, stability, and unparalleled support that can't be equaled by any other franchise opportunity.
If you'd like to find out more about owning a Concrete Craft franchise, explore the next steps today. One of our Franchise Consultants will answer all your questions so you can see if this is the right investment for you.