Recession Proof Businesses and Industries That Profit in a Down Economy
As society and, well, humanity grapple with the recovery and repercussions of the pandemic, many of us are turning our focus to another form of health- our financial wellbeing. With talk of an economic recession on the horizon as a ripple effect from the coronavirus, it's easy to understand if you are a bit anxious, especially if you've been considering the pros and cons of owning your own business. If you have been thinking of owning your own business, but have concerns due to an uncertain economy, then consider looking at recession-proof businesses, or even a recession-resistant business. Historically these businesses have thrived, or at least have held their own, during an economic downturn. But first, let's briefly review what a recession means.
What is a recession?
A recession occurs when there is a temporary widespread drop in spending, as consumers become concerned about the economy or from a loss of income, such as reduced earnings from their job. An official definition by economists describes a recession as a fall in the gross domestic product (GDP) for two consecutive quarters. A nation's GDP is how overall economic activity is measured. In most cases when a recession is officially declared, it has typically already been in effect for a few months. The National Bureau of Economic Research (NBER) defines a recession as "a significant decline in economic activity spread across the economy, lasting more than a few months, normally visible in production, employment, real income, and other indicators." As you might expect, this means recessions can impact a wide variety of industries across the board.
What is a recession-proof business?
A recession-proof business is generally an industry that will not be impacted by a decline in the economy, and that industry is usually one that everyone needs, even when finances are tight. For example, a business that specializes in home repairs with services that impact your basic needs tend to do extremely well- even if the economy goes south. Other examples of a recession-proof business or industry include baby or children's products, since parents want to ensure their infants and child receive proper clothing and care. You could also include the food and beverage, vehicle repair, and health sectors. Although decorative concrete is not a "must have" service, the home services brand, Concrete Craft®, has seen exponential growth during the pandemic, as homeowners are spending more time in their homes and looking for ways to beautify the place where they spend most of their time.
How home improvement franchises thrive in tough times.
While buying a home improvement franchise includes several benefits, such as setting your own work schedule, having a recognized, trusted brand, and in most cases, a designated and well defined sales territory, home improvement franchises also offer services that home owners need, even in a down cycle economy. When you are looking for a franchise to build your future on, you want a franchise that is as close to recession-proof as possible. This means owning a franchise that won't decline or is less likely to be impacted by the economy and one that isn't seasonal. In essence, you want a franchise that will produce an income year-round during almost any situation. Concrete Craft is a year-round business that generates not only significant opportunity in the residential world, but the commercial niche as well. In the summer, you will be busy beautifying patios, driveways, walkways, pool decks and more. And in the winter months you have the opportunity to provide stained concrete floors- from basements to living rooms and bathrooms, and vertical applications, such as concrete overlays on fireplaces.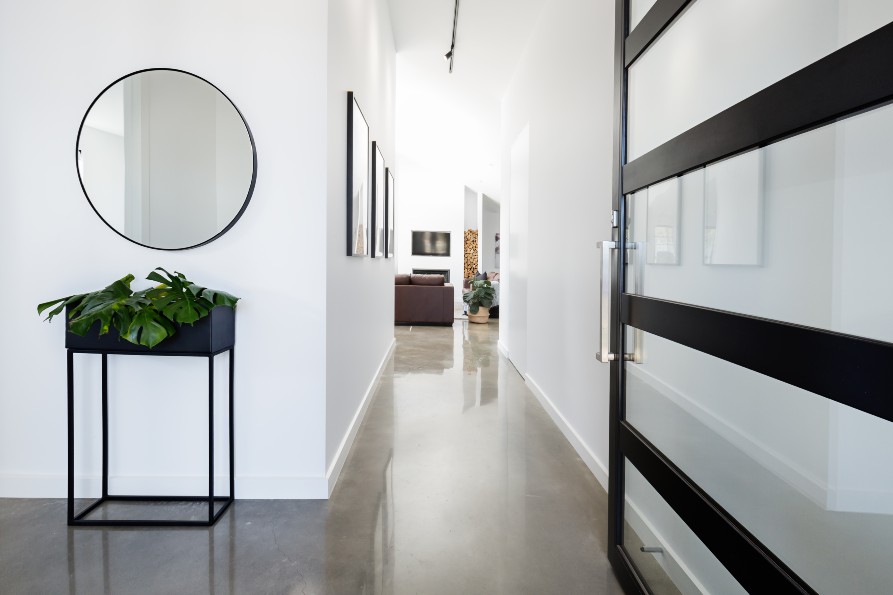 Why Concrete Craft is proving it can be a recession proof business.
As mentioned earlier, there are several reasons why owning your own franchise business can be the next chapter in your career- and your life. Sure, the lucrative earning potential and enhanced overall career security are attractive enough, however, with Concrete Craft you also benefit by partnering with a franchisor that has a proven track record in several critical areas, such as business support and the ability to perform all year and during cyclical economic downturns. And while there are several factors that can be attributed to Concrete Craft's success, a few especially deserve to be showcased:
Concrete Craft is the largest decorative concrete franchise in the nation.
With over 100 successful franchise locations in North America, Concrete Craft has created an unmatched footprint in both branding power and franchise coverage. This means as a new Concrete Craft franchise owner you are part of an established brand that has already cultivated critical relationships with vendors and suppliers. And while Concrete Craft enjoys substantial coverage across North America, there are still plenty of opportunities and territories for new franchisees- business minded entrepreneurs just like you. In fact, it's likely you will be the only nationally supported local decorative concrete business in your area.
Concrete Craft does not require prior construction or concrete experience.
Concerned that you don't have the construction or concrete experience to be successful? Not to worry, because most successful Concrete Craft franchise owners did not have prior experience either. What they did have was a common desire to succeed and create their own version of the "American dream", of owning their own home-based business, and one that could provide financial security in both good and challenging times. One reason prior experience is not important is because Concrete Craft provides all franchisees with outstanding business support and a state-of-the-art franchise training program. All you need is a solid work ethic and a desire to succeed. From a proven business model to comprehensive, hands-on training, we've got you covered and set up for success.
Concrete Craft boasts a unique competitive advantage.
From a diverse range of concrete services to proprietary and exclusive coatings, stains, and finishes, we've developed distinct advantages over other decorative concrete companies. Firstly, most decorative concrete companies provide just one or two services, such as resurfacing or stamping, but Concrete Craft offers a complete array of services, including vertical concrete resurfacing and concrete repair. We also provide exclusive processes and advanced techniques such as our hand-cut and custom-colored system which enables us to create a lasting finish that simulates real stone. Customers can have the elegant look of premium stone facades for a fraction of the cost of real stone.
There's no better time than now to get started with owning your own recession-proof business.
Regardless of what the current economic picture might look like, now is the perfect time to explore the next step on your path to a secure economic future. Concrete Craft continues to expand as the leader in decorative concrete and we're looking for those like yourself who have that "can do" mindset. Call 1-800-420-5374 or explore the Concrete Craft opportunity online. You can also visit Home Franchise Concepts (HFC) , the parent company to Concrete Craft and a leading home service franchisor in North America, to learn more about franchise ownership with our sister brands in the booming home improvement space. One of our franchise licensing advisors will be happy to answer any questions you have and assist you with evaluating whether franchise ownership is right for you!