Painting Business: Alternative Ideas That Are Worth Your Investment
The U.S. home remodeling industry is booming and shows no signs of slowing down. According to Allied Market Research, it was valued at $316.8 billion in 2020 and is forecast to be worth more than $585 billion by 2030. Because of this astronomical growth, many entrepreneurs are hoping to cash in by opening home services business, like painting companies.
On the surface, starting a painting company may seem like a smart investment. You'll have no shortage of potential customers as plenty of people hire painters: contractors building new houses, homeowners who don't want to do the work themselves, and landlords who need to spruce things up between tenants. Plus, startup costs are minimal. All you'll need is a ladder, a supply of brushes, and a few tarps. For people who currently make their living as painters and enjoy it, it sounds like a sure-fire way to continue doing what you love, while making more money at it.
The Disadvantages of Opening a Painting Business
Whether you start your own painting business or buy into a painting franchise, you will have a lot of competition. According to IBIS World Market Research, there are more than 263,000 painting businesses in the U.S. Many of them are painting franchises, companies with strong name recognition. For a small business it might be hard to win customers away from brands they know and trust. In order to do this, you may have to price your services lower than the rest of the market.
As a business owner you have to consider labor costs, since you're probably not going to do the painting yourself. You need to find reliable, long-term, skilled employees and make sure they're bonded and insured. Your profits will be based on what you charge for your jobs minus your labor costs, so you need to calculate the number of employees you need to do the work. You'll need to figure out how many painters to hire in order to support the business. If you're not managing enough painters, you may find yourself wielding a brush during the day while doing management work at night.
Whether you start your business from scratch or take advantage of a painting franchise opportunity, you need to remember you're providing a service that doesn't require a lot of skill to perform. If the economy gets tight, many of your potential customers may choose to do the work themselves.
Like the painting industry, many other home improvement businesses come with the same drawbacks. Home Maintenance services, house cleaners, and landscapers are just three examples of markets that are so oversaturated it's hard for new businesses to gain a foothold, even if they are a franchise. And simple repairs, cleaning, and yard work are jobs that most homeowners are willing to do themselves if money gets tight.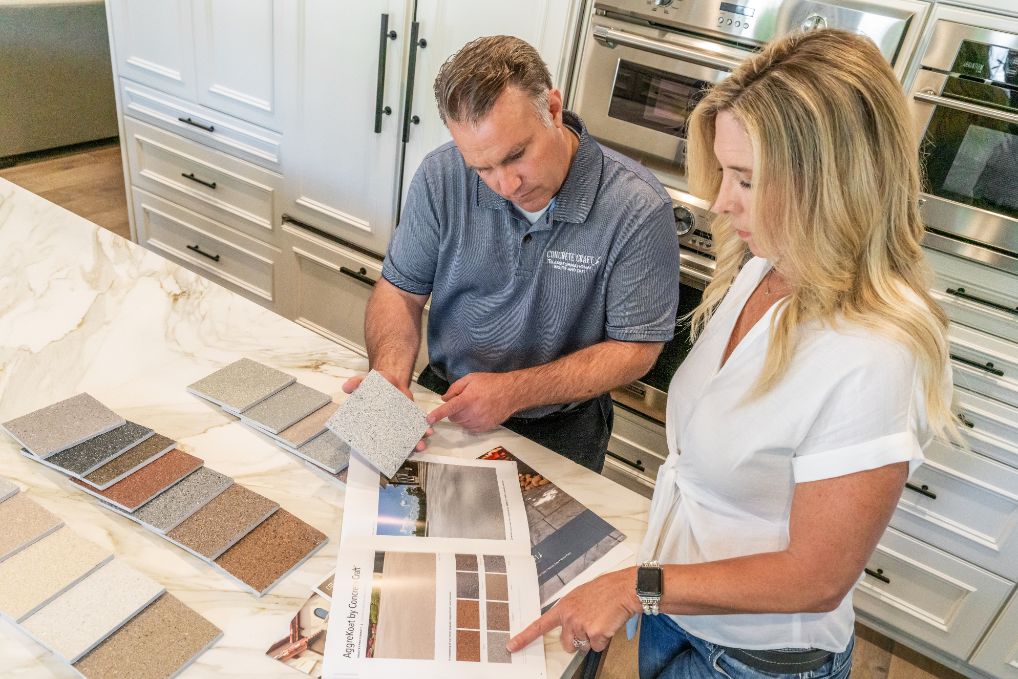 Consider Concrete Craft Instead
A similar home improvement business idea that doesn't have these drawbacks is decorative concrete. While the industry is growing rapidly, it's still a niche business, so competition is sparse. Concrete Craft is the only nationally franchised decorative concrete company, so when people think about decorative concrete, they usually think of Concrete Craft first. We also limit competition by assigning each franchisee a clearly defined territory of 100,000 homes in a single ZIP code. No other Concrete Craft franchise is allowed to operate in your territory.
Unlike painting and other simple jobs, what we do cannot be done by the typical homeowner. Yet, you don't need concrete experience, or any construction experience at all, to own a Concrete Craft. All our franchisees undergo an intensive two-week training program. The first week is spent in a classroom setting, learning industry how to run the business, including product knowledge and sales, as well as comprehensive local area marketing programs. The second week is spent doing hands-on training at our Experience Center. You and your installer will learn our proprietary methods of stamping, staining, and resurfacing concrete so it resembles more high-end materials like stone, slate, tile, brick, and even wood. Once you're done with the training, you'll be on your way to becoming an expert in the decorative concrete field.
Learn More About Concrete Craft
Before you consider investing in a painting franchise opportunity, contact us today to see why owning a Concrete Craft is the smarter choice.