New Concrete Craft Franchisees Highlight the Support and Guidance Offered When Investing as a Business Owner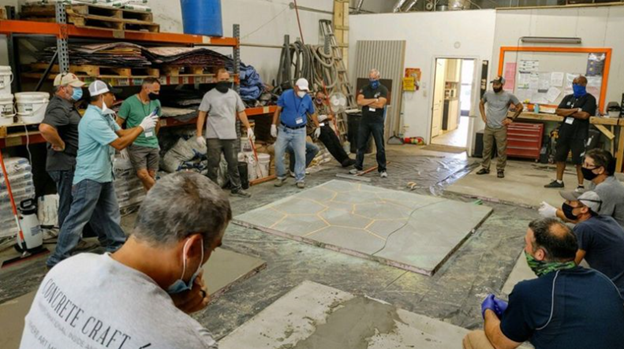 Within the decorative concrete industry, Concrete Craft, which is part of parent company Home Franchise Concepts, is a dominant player with over 60 territories open in the U.S. and Canada. In spite of many business closures and strict social distancing requirements, Concrete Craft has managed to have a strong year of growth. While there have been 31 new franchisee signings this year to date, only two of the signings were pre-COVID-19. That means the brand has managed to secure 29 signings amid pandemic conditions, and the brand has no intention of slowing down.
Kelly Whitaker, who signed on for two territories in the southwest region of the Twin Cities, Minnesota, is one of those recent franchisees. "My husband, my son and I will all be working in the business together," she said. "My husband is an artist with an MFA, and he always worked in the home remodeling industry, primarily on the artistic side. After I transitioned from my marketing and operations job of nearly 15 years, we were looking for the right fit for our skill sets. We aren't strangers to the franchise industry — I worked for a franchisor, Ameriprise Financial, and my husband comes from two generations of franchise owners, including his father, who owned a CertaPro location. We knew that home remodeling was one of the things that brought us joy, and we wanted to be able to provide our community with those services."
When the Whitakers heard about Concrete Craft, they were confident that it was the franchise concept for them. Plus, they recognized a gap in their market for beautifying concrete.
"After doing our due diligence, we went to the Discovery Day, met the leadership team and visited other franchisees," she said. "We were very impressed with everyone we met, and we were really able to dive deep into the opportunity and ask every question we had. We had a death in the family, so we were unable to attend the planned training, but Concrete Craft connected us with three different franchisees in Indianapolis and Colorado, and we were able to go and work with those people for a week each on site. That training really helped us make sure we knew what we were getting into, as well as see how Concrete Craft has supported franchisees during COVID-19. We officially opened in October."
Eddy Miyares is another Concrete Craft franchisee who signed on after COVID-19 and recently opened his first location in Southeast Nashville, Tennessee. "I worked for two consumer goods Fortune 500 companies for over 30 years in sales leadership positions," he said. "I lost my job two times in my life, once in 2008 and then this time because of the COVID-19 pandemic. As I started looking for a job, I consulted with a franchise consultant about starting my own business. One of the concepts that they recommended was Concrete Craft. I did my due diligence and spent a few days with other Concrete Craft franchisees. After really understanding the concept, the gap in the industry, the stability of Home Franchise Concepts and the business model, I knew Concrete Craft was the right fit."
Miyares signed on at the beginning of September after several phone calls with the corporate team, as well as a virtual Discovery Day. He started the training process two weeks later, with half of the program on Zoom and the other half in-person.
"The eight days of virtual training were very interactive and covered all sorts of different topics, including marketing, operations and the CRM system, as well as an introduction to the leadership team," said Miyares. "The in-person training consisted of six days in Atlanta, where we visited the warehouse and went on to a job site to learn about rehabilitation and all of the processes used during installations."
Miyares opened the Nashville location in October and is already seeing at least three calls a day. He hopes to establish the Nashville territory over the next year and then open another location in the Panhandle of Florida, where he also purchased a territory. Miyares notes that he is excited to continue growing with the brand and hopes to one day diversify with other HFC concepts.
Brothers Ari and Geaery Crawford also signed on with Concrete Craft in September to open a location in Rowlett, Texas. "Both of us grew up in Montana and have always wanted to own our own business," said Geaery. "After I got my engineering degree, I ended up working in the oil industry and eventually moved to Texas as a field engineer at Halliburton, where Ari also got a job after school. My goal was to keep working there and build up capital, but with COVID-19, I got put on administrative leave back in April, and Ari ended up getting laid off. We also saw that oil prices were going down and knew it wasn't the most stable industry, so we decided to take on a new challenge that would push our limits and allow us to control our own destiny."
The Crawfords started looking up franchises online and found an assessment that evaluates a prospect's personality and matches them up with ideal franchises. They started working with a franchise consultant, and when he suggested Concrete Craft, the Crawfords were sold. "The product looked like something I would want in my house," said Geaery. "We talked with the HFC team, did all the due diligence and saw the financials, and we knew that as long as we were willing to put in the work, we could be successful. That was the main thing that really stood out to us during the onboarding process — the team is there to help you succeed and deliver on their promises. We chose franchising because we wanted to have the backing of an established company like HFC."
The brothers attended the virtual Discovery Day, where Geaery notes that the CEO was on the call answering questions. "Their outlook and what they've done with their franchises really stood out to us," he said. "Ari went to training at the end of September, and I am going to training in a few weeks. We've also been able to speak with several franchises about on-site visits, and everyone we've talked to has been incredibly open and honest."
The Rowlett location is expected to go live before the end of the year, and the Crawfords have already booked an excited first customer — themselves. "The first two jobs we plan on doing are at my own house — that's how much we love the product," said Geaery. "After that, we can't wait to offer this service to our community and brighten up the lives of our customers."
Though the end of the pandemic is nowhere near in sight, Concrete Craft is set for continued growth. With its solid business model and concrete relationships, it is no wonder that savvy entrepreneurs are continuing to invest in the Concrete Craft franchise opportunity.
If you are interested in franchise ownership, Concrete Craft, a Home Franchise Concept (HFC) brand, has been helping business-minded people build successful franchise businesses for over 25 years. Visit Home Franchise Concepts or call 1-800-420-5374 and speak with one of our franchise licensing advisors to learn more about the Concrete Craft opportunity.