How to Start a Paving Business: 4 Things You Need to Know
If you're looking for a solid investment in an underserved market, you may want to consider opening a paving business or buying a paving franchise.
Paving companies pave new surfaces or repair existing ones for commercial and residential clients. For a homeowner, you might pour a new driveway or patio or repair cracks in existing structures. For a commercial customer, you might pave parking lots or walkways in a new development. For a government client, you might work on roads, sidewalks, or even airport runways, or you might repair potholes.
While a paving business can be profitable, there are four things you need to know before you start one.
The up-front costs can be high.
Before you can take on any jobs, you'll either need to lease or buy several pieces of equipment. You need to estimate how much asphalt or concrete you plan to lay in a day and find the right equipment for a job. As a general rule, if you handle commercial projects, you'll need a higher caliber of equipment to handle the workload.
If you plan to do driveways exclusively, you could probably get by with a less expensive tilt hopper paver. But for bigger projects, you may need a more complex gravity-fed paver. Those can cost between $35,000 and $60,000.
You will probably also need an excavator to prepare the surface you're going to pave, a tractor or dump truck to haul materials. And if you plan on handling multiple projects at the same time, you'll need more than one set of equipment.
The work is subject to seasonal slowdowns.
During the colder months, many exterior paving projects are put on hold until the weather is better. Also, you won't be able to work during heavy rains.
You'll have to bid for commercial projects.
The paving industry can be very competitive, and most government and commercial jobs take bids before deciding which company to use. You'll need to figure out how low your bid should be to win the job while still making sure it's still enough to make a profit on the work.
Even if you only handle residential projects, you'll want to set prices comparable to other paving companies in your area.
Working with asphalt can be very dangerous.
The majority of paving projects, especially large ones like roads, are done with asphalt rather than concrete because it is typically cheaper and sets faster. Since asphalt contains petroleum products and is stored and handled at high temperatures there's the risk it could ignite if it comes into contact with a spark. Since asphalt is typically heated between 150 and 200 degrees Fahrenheit before it's spread, there's a danger of burns. And the heating process also releases hazardous vapors.
As with any business, you'll need to set up liability and worker's compensation insurance to cover any injuries that might occur on the job. Because of the dangerous nature of the job, these policies may be very expensive.
Consider Concrete Craft Instead
Instead of starting a business laying asphalt or concrete, you may want to consider investing in a different type of concrete business — decorative concrete. Concrete Craft is the largest concrete resurfacing franchise in the nation. While we do provide repair and resurfacing services, the bulk of our work is transforming concrete to resemble more expensive materials including slate, stone, tile, brick, and even hardwoods. No two jobs are ever the same as there is an artistic component to what we do. We do a significant amount of interior work, including fireplaces and flooring, so our business remains steady no matter the weather.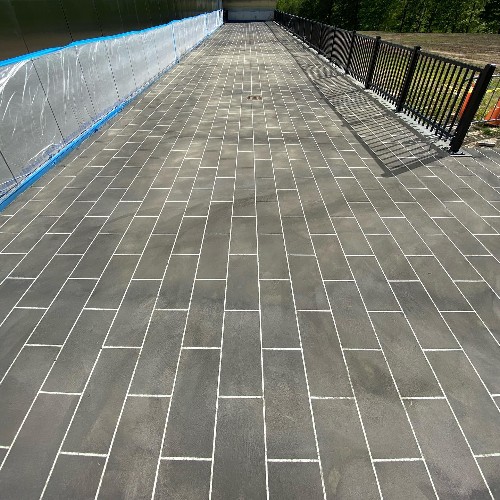 Most of our franchisees have no previous experience with concrete, but our intensive training program teaches them everything they need to know to become experts in the field.
Entrepreneur's Franchise 500 ranks Concrete Craft No. 1 among concrete coatings franchises, as well as the top franchise for less than $150,000 and top home-based and mobile franchises.
Find Out More About Concrete Craft
If you think owning a Concrete Craft is a better option than starting a paving business or buying a paving franchise, contact us today. One of our franchise advisors will be in touch to answer your questions so you can take the first steps toward becoming part of the Concrete Craft family.