How Former Walgreens Manager Chuck Yates Found the Perfect Franchise Fit with Concrete Craft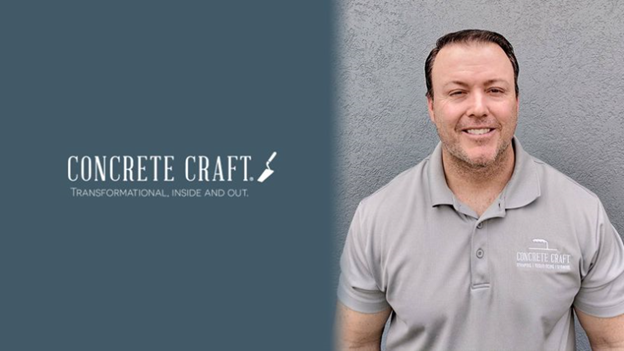 Chuck Yates had never really thought about owning his own business: He grew up in Alcoa, Tennessee, a town with modest means, and initially, business ownership seemed too expensive, time-consuming and difficult. However, once he learned about franchising with Concrete Craft, the idea of going into business for himself became plausible—even attractive.
After going to school at Maryville College in Maryville, Tennessee, Yates began working at Walgreens and was quickly promoted to store manager, a position he held for 16 years. However, in October of 2015, along with many others in the Walgreens system, Yates was impacted by a company-wide layoff. The layoff took Yates and his family by surprise and he knew he had to come up with a plan. "Thankfully, my wife was really supportive throughout the whole situation and encouraged me to take a little bit of time off to figure out my next move," Yates said.
"I started taking classes online to be a financial advisor, but it was taking a long time and we had a lot of bills to pay," he continued. "It was a stressful time and I knew I had to figure out a plan quickly. I started applying for just about any job that I could find. I obtained a few leads but nothing that I really saw myself having a future with."
In the midst of his job search, Yates was contacted by a franchise broker about potentially getting into the franchise industry. "Admittedly, I was a bit apprehensive at first," he said. "I didn't really know anything about franchising: I wasn't looking to open a business, nor did I think I could afford to have my own business." But, after conducting his own research on franchising and speaking with the broker, Yates realized that franchising was in the cards for him—and if he found the right franchise, he would be able to afford it.
After looking at a variety of different brands, the decorative concrete franchise Concrete Craft stood out to him for several reasons. First, Concrete Craft is a niche company that would fill a need in Yates' area. To Yates, this meant that if he decided to become a Concrete Craft franchisee, he would have open market availability and opportunities to build a wide customer base. Additionally, Concrete Craft's discovery process was significantly shorter than most other brands, which would allow for Yates to begin making money quickly in order to help support his family.
This sealed the deal for Yates: He made a visit to the Concrete Craft home office and signed his franchise agreement in September of 2016. His location was fully up and operating by October and currently serves the Knoxville, Tennessee market.
Yates noted that once he went to meet with the Concrete Craft corporate team, he knew it was the right fit for him. "The support the Concrete Craft team provides to its franchisees is phenomenal," he said. "They make sure to check in on their owners: They are always asking how we're doing and if there is anything they can do to help us. It was the kind of support system I knew would need if I was going to risk my savings to start my own business and be successful."
Although he had no previous experience with concrete work, Yates' entrepreneurial spirit and work ethic prepared him well to franchise with the brand. According to Aaron Cady, director of franchise licensing at Concrete Craft, Yates fit the profile for the ideal Concrete Craft franchisee. "We are always looking for candidates who can follow a process," Cady said. "We are looking for self-starters that are willing to put in the work. We are not necessarily looking for those with experience in concrete work, but we are looking for people whom we can trust to have the mindset to work hard and be successful business owners." Yates exemplifies this driven and hard-working mindset.
As for the future, instead of expanding his territory to cover more ground, Yates plans on expanding his customer base in order to provide hand-crafted, beautiful concrete overlays to more people across the Knoxville area. "The work we do at Concrete Craft is truly exceptional and I love seeing my customers' reactions to projects," he said.
Concrete Craft, previously known as All American Decorative Concrete, has been specializing in stamped, stained and decorative overlays for both residential and commercial properties since 2006. Even with a growing presence, there is ample opportunity for hard-working, business-minded franchisees to become part of the Concrete Craft family.
Learn more about the Concrete Craft opportunity or any of the Home Franchise Concepts family of brands by calling 1-800-420-5374 to speak with one of our franchise licensing advisors.