How Archadeck Franchise and Concrete Craft Compare
How Archadeck Franchise and Concrete Craft Compare
The popularity of outdoor living spaces has been on the rise for the almost a decade. The American Institute of Architects (AIA) first noticed the trend in 2014, when the number of customers asking for outdoor living spaces increased 6% from the previous year.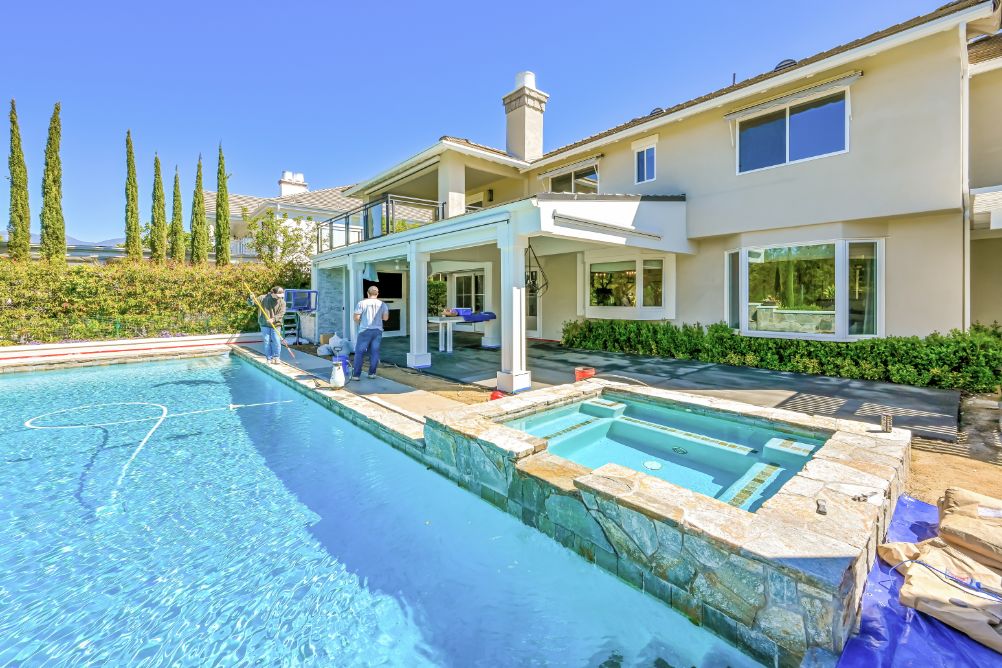 This may have been due to the popularity of home improvement television shows which gave people the idea of redoing their backyards into a second living area, with couches and a fire pit, or maybe even a dining area with an outdoor kitchen.
In the past two years, those numbers have skyrocketed, in part as a result of the COVID 19 pandemic. After spending more time at home, people want to make their houses as nice as possible. And adding an outdoor living area has allowed them to entertain, avoid enclosed spaces, and reduce the odds of catching the virus. Plus, it's a way to get out of your house, without leaving your home. The latest AIA survey found the demand for outdoor living spaces increased a whopping 70% from 2020 to 2021.
Savvy investors have started looking at the profitability of deck and patio franchises to take advantage of this booming home improvement trend.
Which type of Franchise is Best for You?
In order to give you an idea of which type of franchise may be better for you, let's compare two of the biggest names on the market: Archadeck Franchise and Concrete Craft.
Archadeck Outdoor Living builds structures decks, porches, sunrooms, and gazebos. Concrete Craft uses proprietary processes to stamp, stain and resurface existing concrete so it resembles pricier materials including stone, slate, tile, and even hardwood.
The ArchaDeck Franchise
If you buy a deck franchise, you are entering a very crowded market. Besides the other national franchises, you'll compete with local businesses, as well as do-it-yourselfers. Building a deck is a large project that costs homeowners tens of thousands of dollars. In tough economic times, it's an easy one to put off.
The work of installing decks comes with high liability. If a job isn't done up to code and the structure fails, injuring someone, you will be held responsible as the business owner.
Plus, the work is seasonal. Frigid winters and periods of heavy rain will delay the start and completion of deck projects.
The Concrete Craft Franchise
Concrete Craft is the leading brand in a niche market as the nation's largest decorative concrete franchise. There is not much national competition. Most are mom and pop local businesses providing similar decorative concrete services, but without the proprietary processes, training, support and backing of a national brand.
Since we do exterior projects, like pool decks and patios, as well as interior projects, like fireplaces and flooring, our work isn't seasonal, and there are plenty of opportunities to do flooring for commercial businesses.
Concrete Craft is proud to rank on Entrepreneur's Franchise 500® in multiple categories, including #1 in Category, Top Franchises for Veterans, Top Homebased Franchises.
By the Numbers
Wondering how much it will cost to own an Archadeck Franchise versus a Concert Craft Franchise?
$58,625 - $103,550 is the typical range to start a new Archadeck Outdoor Living territory. This includes the initial franchise fee, the required marketing investment of $49,500, some additional working capital.
$69,950 - $156,330 is the typical range to start a Concrete Craft franchise. This includes the initial franchise fee and additional working capital of $86,380. Although slightly higher, Concrete Craft also offers $40,000 in-house financing to set you on the path to business ownership.
Refer to each brands latest Franchise Disclosure Document for more details.
Become an Expert
It doesn't matter if you don't have any concrete experience, or any construction experience at all. Our intensive training program makes sure all Concrete Craft franchisees are experts in decorative concrete by the time they open their doors. You'll receive a combination of online, classroom, and hands-on training so you can learn how to implement our successful business model, as well as how to perform our proprietary techniques.
See if Concrete Craft is Right for You
If you think owning a Concrete Craft franchise business might be a better fit for you than buying a deck franchise, request more information today to see if you qualify to own a Concrete Craft.