Franchisee Craig Bagby Brings Concrete Craft to Richmond Virginia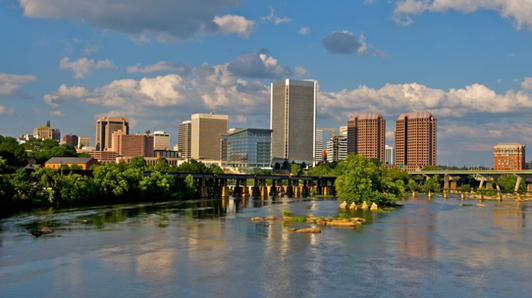 Before joining Concrete Craft, Craig Bagby spent over two decades in the medical device and sales industry. "I started as a sales representative for Life Watch in Chicago and eventually became Vice President of Sales for North America," he said. "I learned a lot in that job, it was really a crash course in the business world. Although I always had an entrepreneurial spirit, I was never in a place in my life where I could take that risk."
Bagby decided to look into franchising after his friend started franchising with Home Franchise Concepts (HFC), the parent company of Concrete Craft. "I've always wanted to be my own boss, and seeing the success my friend really piqued my interest," he said. "With the help of a franchise coach, I looked at several concepts and ultimately connected with Concrete Craft. Once I did my due diligence, attended the Discovery Day and met the team, I knew it was the right choice for me."
Bagby signed on last year and went through training in September of 2019. In addition to going through two weeks of training at the brand's headquarters in California, Bagby also traveled around on his own to learn from other franchisees in the business.
"The leadership team and network of franchisees have been unbelievably supportive throughout the whole process," said Bagby. "Having that support system one phone call away has been extremely helpful. I suppose I could have started a concrete company on my own, but I would have failed without the team's assistance, guidance and best practices. That expertise and support gave me the confidence to go out and carve a niche in the market. I also loved that Concrete Craft charges a flat royalty fee — from day one HFC told me they would help me be as successful as I wanted to be. Potential franchise owners can benefit so much from that mindset."
Bagby noted that franchisees even stay in regular contact with the brand's original founders, John Kostro, Dir. Of Operations and Dan Lightner, President. And while Concrete Craft is an emerging brand, it has all of the benefits of a large organization thanks to HFC, including legal and marketing support. In 2019, JM Family Enterprises, Inc. acquired HFC, making Concrete Craft the only decorative concrete franchise system backed by a large international company.
The Midlothian, Virginia Concrete Craft opened in November 2019. "Midlothian is a suburb of Richmond, and we serve the whole Richmond and Central Virginia area," said Bagby. "The median income in this territory is pretty high, and many of these homes were built 50 years ago. That means there is a lot of stamp concrete that has been neglected over the years. I knew there would be a market for our services residentially, and there are also a lot of new commercial buildings which could lead to more commercial opportunities. When doing research, there were only a few decorative concrete businesses in this area, and the ones that did exist didn't have the wide array of offerings that Concrete Craft had."
While most decorative concrete companies specialize in only one process — either stamped, stained or resurfaced — Concrete Craft has mastered all three to provide a unique competitive advantage and access to multiple revenue streams. In addition to residential business, owners can take advantage of concrete commercial flooring offerings, including stamping and staining concrete in high-profile reception areas, offices, salons, restaurants and retail buildings. Concrete Craft's position as a dominant player in the industry is reinforced by its commitment to providing quality products and services at an affordable price. The brand offers free on-site consultations and estimates; knowledgeable design consultants; high-quality, durable products; and professional and punctual installation.
While Bagby anticipated several potential issues when making the decision to franchise, one of those was not a global pandemic. When COVID-19 hit, he was worried at first, but soon found that he had invested in a business that was positioned not only to survive a pandemic, but also to thrive.
"People are spending much more time at home and are looking at that ugly concrete they've wanted to get done for years and deciding that now is the time to do it," said Bagby. "Business has actually picked up during the past few months, and we are landing three to five jobs a day with minimal advertising. Plus, most of our jobs are outdoors — I show up with a mask on and, from start to finish, I don't have to step foot in the customer's home. The Concrete Craft team has also been amazing in providing resources and best practices regarding safety procedures, social distancing and more."
As of right now, Bagby has one employee — his nephew — and is enjoying building the business with him. Bagby is 100-percent active in the day-to-day operations, not only with sales but also with the actual concrete work. His main goal is to become an expert himself and then hire an additional person by the end of the year. In addition to serving his community through Concrete Craft, Bagby is also a part of the SPCA in Richmond, a non-profit, no-kill humane shelter, where he works to train and socialize aggressive dog breeds.
Today, Concrete Craft has nearly 60 points of presence across the U.S. and -2 in Canada, with plenty of room for more franchisees who want to be the decorative concrete go-to experts in their communities.
"The Concrete Craft system is designed to support franchisees like Craig throughout the onboarding and launch process," said Chief Development Officer Jonathan Thiessen. "With sixteen new franchisees signing on in 2020, we're looking forward to continuing this process with new owners as they expand across the country."
If you are interested franchise ownership, Concrete Craft, a Home Franchise Concept (HFC) brand, has been helping business-minded people build successful franchise businesses for over 25 years. Visit Home Franchise Concepts or call 1-800-420-5374 and speak with one of our franchise licensing advisors to learn more about the Concrete Craft opportunity.