Five Reasons to Own A Concrete Craft Franchise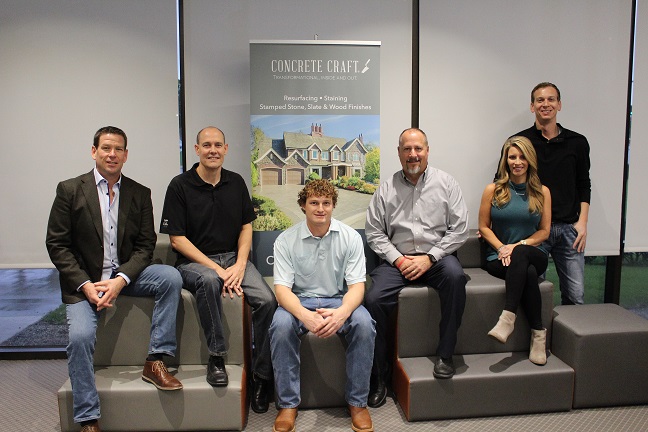 Whether you are looking to establish a legacy family business, create a more flexible work environment, control your own income potential, or all of the above, there are a host of reasons why you may want to consider owning your own business. And once you've made the decision to move forward, Concrete Craft® helps make the decision easy with a franchise opportunity that shines in several critical areas, including business support and the ability to sustain a proven track record of success. As a nationally branded expert in stamped concrete, resurfaced concrete, stained concrete, and concrete restoration, Concrete Craft is the recognized leader in decorative concrete. And right now is the time to ignite your true business ownership potential with one of the most successful franchise opportunities in North America.
Below are five reasons why selecting Concrete Craft as your franchise and business partner expert can help make your dream of business ownership a reality:
Reason #1: Partner with the largest national decorative concrete franchise.
With now over 80 successful franchise locations in North America, Concrete Craft boasts an unmatched footprint in both branding power and buying power. This translates to a key success metric for new business owners, as you don't have to start building your brand from scratch. In fact, Concrete Craft is currently the largest decorative concrete coatings franchise in the nation, yet there is still a lot of opportunity to open up new franchise territories across the U.S. and Canada for business-minded entrepreneurs who enjoy managing teams of installers and running and marketing their own business. In fact, you will likely be the only nationally supported local concrete business in your area. And as you might expect, our continued success as a preeminent leader in hand-crafted concrete has also garnered some pretty impressive accolades, which include being Ranked the #1 Concrete Coatings Franchise on Entrepreneur's Franchise 500® list for 2021.
Reason #2: There is no prior construction or concrete experience required.
Thinking you need experience as a craftsman or construction experience to succeed with Concrete Craft? Then think again, because most of our Franchise Owners did not have any prior experience. What they did have was a common desire to achieve their version of the "American Dream"- that is owning their own home-based franchise business. Our success has been fueled by the diverse backgrounds of our franchise owners, which include a retired commercial pilot, a human resources director, a purchasing agent, and an auto industry executive. None of them had any prior concrete franchise or concrete experience. One reason prior experience is not required stems from our outstanding business support and franchise training program.
Most of our Franchise Owners have any prior experience, just a common desire to achieve their version of the "American Dream" of owning their own business.
Prior experience in light construction, hardscape design, or decorative concrete is not necessary–we'll educate and train you on all aspects of your new business. All you need is a solid work ethic, a "can do" attitude, and the desire to succeed and we will take care of the rest by providing:
A proven, established business model that is based on best practices for running a successful small business.
Comprehensive training that includes hands-on training with the finest, most experienced concrete installers and trainers in the industry.
Franchise owner-based training that includes the preferred and established methods, processes and procedures for running your own home-based franchise, including the necessary start-up requirements so you have a successful launch right from the start.
Reason #3: A unique competitive advantage.
Concrete Craft is a unique franchise opportunity for several reasons because of its size, the experience of the franchisor's leadership team, and the competitive array of services offered. Since most decorative concrete companies- which usually consist of smaller independent operators that specialize in only one process, such as resurfacing, staining, or stamping, are limited to what they can offer to customers, Concrete Craft- has mastered all processes, including vertical concrete resurfacing and concrete repair systems. This competitive advantage, combined with our robust marketing power, exclusive, high-quality MasterPro™ products, best in class service, and proprietary processes keeps you ahead of the competition.
One of our primary competitive advantages stems from our exclusive process and techniques. As an example, our hand-cut and custom-colored system enables us to create a lasting finish that simulates real stone. Genuine stone molds and wood plank stamp patterns provide the same textures found in nature, so finished surfaces look authentic. Customers can have the elegant look of premium stone facades for a fraction of the cost of real stone. Consumers can also select our branded, exclusive MasterPro™ Product Line that includes MasterPro Finish, MasterPro Stamped, MasterPro Stained and MasterPro Scapes. These are designer-focused and designer-inspired, and are not found anywhere else. In addition, our advanced coloring system has built-in UV protection which utilizes the very latest in nanotechnology and, in combination with our premium sealers, creates a beautiful, low-maintenance surface.
Reason #4: Benefit from your own exclusive territory.
With a Concrete Craft franchise you never need to worry about competing with other Concrete Craft franchise owners. That's because as a Concrete Craft franchisee you are awarded your own exclusive territory. Each concrete franchise encompasses approximately 100,000 single-family households as defined by zip code, and there is only one franchise per territory. This generous territory parameter allows you to focus more on marketing to your prospective customers without the challenges of competing with other Concrete Craft owners. Yes, you will still have a degree of competition from smaller, local decorative contractors, but they won't have the power of our national and local area marketing behind them like you will, which we'll detail next. By serving up an exclusive, target-rich territory of approximately 100,000 single-family households, you'll immediately have the advantage of knowing who and where your target customers are right out of the gate.
Reason #5: Proven, comprehensive marketing support.
The power of effective marketing cannot be understated. In fact, oftentimes marketing a product or service is the difference maker in determining eventual success. A wise pioneer in marketing once said, "People buy brands, not products". With Concrete Craft and parent company, Home Franchise Concepts® as your backstop, branding power and marketing will always be turn-key, comprehensive, and localized to help set you up for success, and it starts with our National Advertising Fund, (NAF). The primary purpose of Concrete Craft's National Advertising Fund (NAF) is to increase top-of-mind awareness for the brand which includes an active presence in the digital world. Your NAF dollars are used for national campaigns that support you locally with highly effective digital marketing that includes email campaigns, social media (Facebook, Instagram, blogs), and professional product photography and consultation shots with marketing templates and implementation guides for your local campaigns.
Let's get started!
Now's the perfect time to pivot and take the next step on your career path to a secure economic future. Concrete Craft continues to expand as the leader in decorative concrete and we're looking for those like yourself who have that "can do" mindset. Call 1-800-420-5374 or explore the Concrete Craft opportunity online. You can also visit Home Franchise Concepts online and learn more about franchise ownership with our sister brands. One of our franchise licensing advisors will be happy to answer any questions you have and assist you with evaluating whether franchise ownership is right for you!