Easiest Franchises to Start including the 5 Best Options for New Franchisees
Buying a franchise is one of the simplest ways to get into business for yourself. A reputable company with a recognizable name gives you a step-by-step guide on how to run your franchise based on their proven methods of doing business. This not only takes away the pressure of having to make all the decisions yourself, it also increases your chances of succeeding.
While fast food or quick-service restaurants may be the first franchises that come to mind, they are far from the only ones. Thousands of businesses in hundreds of industries have adapted the franchise model, giving potential franchisees a wide array of options. So, how do you choose?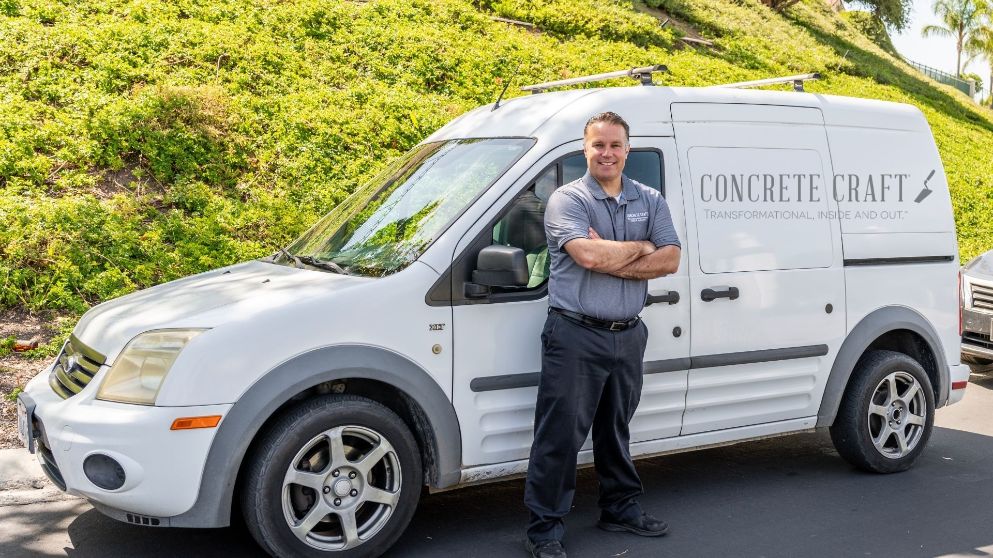 Here's a look at five of the best options for investors looking for the easiest franchises to start.
Franchises with lower fees
Some popular franchises charge franchise fees of $1 million or more, while expecting you to have a large net worth. This is in addition to regular royalty payments, usually a percentage of profits, which is a part of all franchise agreements.
As a new franchisee, you'll probably want to look for a more affordable franchise. Some can be started for as little as $15,000. Then there are those that fall somewhere in between the extreme highs and lows, like Concrete Craft. Our franchise fee is $19,950, and we're seeking franchise candidates with a net worth of $200,000 and minimum liquidity of $110,000.
Franchises that receive strong support from the parent company
There's a huge learning curve for new franchisees. Many have never run a business before or are unfamiliar with the industry they've joined. That's not a problem if the company has a strong support network in place to answer your questions and provide help as needed along the way — both as you're building the business and after it's opened.
Unfortunately, some businesses give minimal support to their franchisees. Before you buy, you should talk to other franchisees of the company to find out what kind of support that company provided for them. Concrete Craft is part of a family of brands owned by Home Franchise Concepts, which has 30 years of experience in the franchise industry.
Franchises in an industry you are passionate about
While some investors choose an industry primarily based on the bottom line, others turn their passion into a business. Sometimes the easiest franchises to own are ones in industries you're already familiar with. For instance, if you're a fitness buff, you may want to consider opening a gym franchise. A retired teacher looking for a second career might be interested in a tutoring business. And coffee lovers may naturally gravitate toward franchising a coffee shop.
Franchises that don't need a physical location
Businesses that operate out of an office or storefront have a lot of additional expenses, including rent or mortgage payments, electricity, phone service, Wi-Fi, office supplies, and janitorial service. One way to simplify things and avoid all these costs is to open a franchise that can be run out of your home.
Franchises that fill a niche in the marketplace
You may dream about owning a pizza place, but before you open one, count the pizza restaurants in town and see if the market can support another one. Some industries, like house cleaning or repair services, are not only heavily franchised, but they also have a lot of independent businesses providing these services. This doesn't mean you can't be successful running these types of businesses — it just means it will be harder to stand out from the competition, especially those competitors who have a large, loyal customer base.
Why Concrete Craft is one of the easiest franchises to start
Concrete Craft is the No.1 decorative concrete franchise in the nation. We use propriety techniques to stamp, stain, and stencil concrete, mimicking more expensive materials like stone, slate, tile, or brick.
As the home renovation boom continues, demand for our services remains high. We are the most trusted name in the decorative concrete industry, and in many markets we are the only company offering these services.
Concrete Craft is a home-based decorative concrete franchise and ranked one of the Top Home-Based Franchises on Entrepreneur's Franchise 500®. Since all the work is done on site, there is no need to establish a brick-and-mortar location. By running the business out of your home, you not only save money, you have greater flexibility in the hours and days you work.
We understand that many of our franchisees are first-time business owners who are new to running a business in general, let alone in the construction industry and unfamiliar with decorative concrete. The good news is, you don't need to be! Among our current franchisees, one is a retired commercial pilot, another was human resources director, we also have a purchasing agent and an auto industry executive. None of them had any prior concrete experience, and most hire crews to do the dirty work. You and your installer will go through an intensive training program to master our decorative concrete processes, and as the owner, you will learn our successful business model. With Concrete Craft, the support you receive is unparalleled. You will be in business for yourself, but never by yourself, as we have regional operation managers available to help you upon launch.
Learn if you are qualified to own a Concrete Craft franchise today
If you're in the market for a unique franchise in a growing industry, contact us today. One of our franchise advisors will be in touch to answer your questions and help you learn why Concrete Craft is one of the easiest franchises to start.