Concrete Resurfacing Franchise: 6 Questions to Ask Before You Buy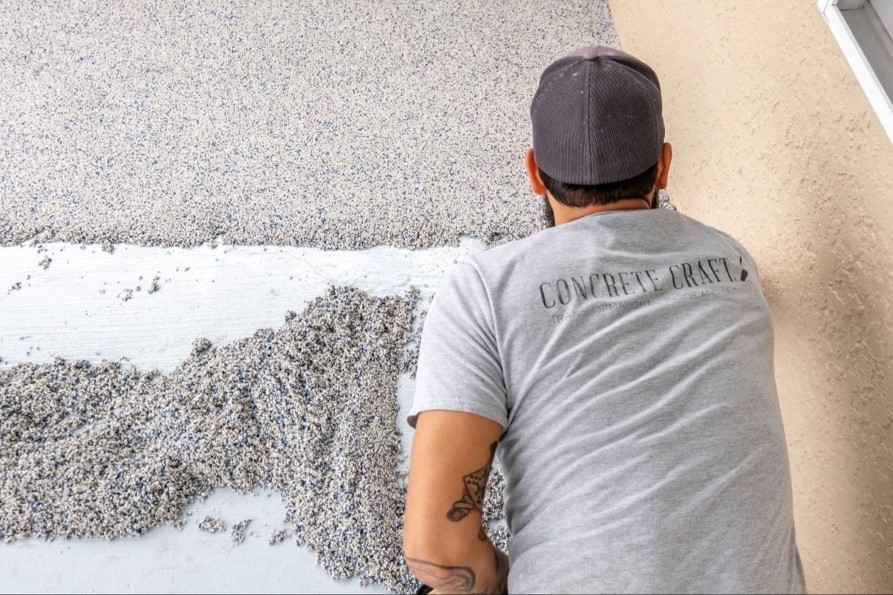 Concrete is a strong, long-lasting, and relatively inexpensive material that's been around for centuries. It's so versatile that it's been used to make everything from bridges and skyscrapers, to driveways, patios, and sidewalks to fireplaces and kitchen countertops.
But like most things, eventually these surfaces are going to show wear and tear, becoming cracked and discolored. But replacing a concrete surface, like your driveway, is an expensive and arduous job. The existing slab must be broken up, most likely with heavy machinery, the pieces will need to be hauled away, and then a new slab will need to be poured.
That's why cracked, worn, concrete is usually repaired instead of replaced, using a process called concrete resurfacing.
How Does Concrete Resurfacing Work?
Concrete resurfacing is the process of laying a cement-based overlay, mixed with special bonding agents, over an existing concrete surface. This covers any cracks and blemishes, making it look like new. Since there is a high demand for concrete surfaces, it follows that there is a demand for companies to repair them.
If you are thinking about buying a franchise that has something to do with the construction industry, you might want to consider a concrete resurfacing franchise. But before you decide which one to buy, here are six questions to ask.
What kind of jobs do you typically handle?
Some concrete franchises do a wide variety of jobs—mixing and pouring new concrete, as well as fixing the damage in existing surfaces. There are franchises that just concern themselves with garage floors, or foundations. For some people, this work may seem repetitive and tedious. Other franchises, like Concrete Craft, create decorative concrete surfaces. The artistry involved in the process guarantees no two jobs will be exactly the same.
Will the work be limited by the seasons or the weather?
Extreme temperatures can impact the materials you are working with, and if most of your repairs are outdoors, rainy days may mean canceling jobs. Since Concrete Craft handles interior and exterior projects, you'll have plenty of work year-round.
What kind of training do you provide?
No matter the industry, you should think twice about buying a franchise without a robust training program. At Concrete Craft, you don't need experience as an artist, or a background in concrete to become one of our franchisees, we'll teach you everything you need to know in our extensive two-week training program. The first week, you'll study industry basics, including product knowledge, sales, and marketing. You'll learn our proven business model of best practices for running your franchise. You'll spend the second week at our Training and Experience center in Dallas for hands-on lessons in how to use our proprietary processes of stamping, staining, and resurfacing to transform concrete surfaces.
How much competition is there?
Currently, Concrete Craft is the only nationwide decorative concrete franchise. We assign each of our franchisees an exclusive territory of 100,000 single family homes, based on zip code.
How does your company stand out in the marketplace?
Franchising since 2008, Concrete Craft is one of the most trusted names in the decorative concrete industry. On Entrepreneur's list of the 500 best franchises for 2022, we are ranked as the top Concrete Coatings Franchise. (A ranking we also held in 2021.) As one of our franchisees, you'll benefit from our years of experience, quality products and proprietary techniques.
What kind of support does your company provide its franchisees?
Since they are new to the industry, we know our franchisees will have questions as they work to get their business up and running. There will be a team dedicated to your franchise that you can call with any questions you may have. We also provide ongoing assistance with best practices, marketing, customer relations, and tech support for as long as you own your franchise.
Find Out More About Concrete Craft Today
To find out more about how Concrete Craft differs from a typical concrete resurfacing franchise, contact us today. One of our franchise advisors will be in touch to answer your questions so you can see how this investment is the right one for you.