Concrete Craft Looks to Expand Throughout the Southeast After Seeing the Success of Husband and Wife Team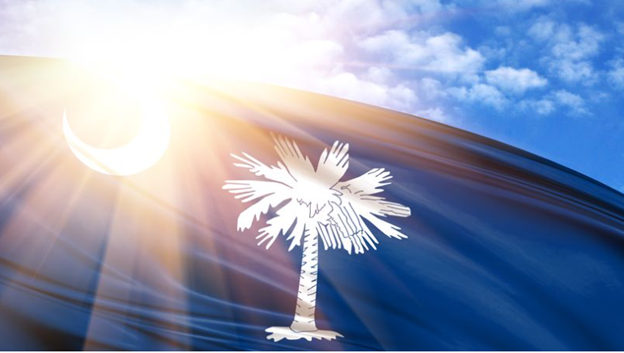 Concrete Craft, which first started as Atlanta-based franchise concept that specializes in stamped, stained, restorative and decorative concrete overlay services for both residential and commercial properties, is seeking franchisees to grow the brand throughout the Southeast — looking to key franchisees David and Lindsay Bradberry in South Carolina as success to emulate. The brand, which currently has 60-plus territories open across the U.S. and Canada, has a number of open territories available throughout the Southeast including: Arkansas, Alabama, Georgia, Louisiana, Mississippi and Tennessee.
David, whose territory is in Columbia, South Carolina, has a background in law enforcement and security and decided to look into franchising after a series of career changes that weren't aligned with his goals. After some research into the brand, David said he was excited at the prospect of being his own boss working in a construction setting — something that he considers exciting and atypical in the franchise world.
"I like that it's very unique in the world of franchising. It's not a fast food restaurant, it's not retail — it's construction work, and I don't know if there's anything quite like it," said David. "I prefer to do something that not everyone does, so the uniqueness of it was something that drew me in. It was hands-on craftsmanship and a trade skill, and that's very personal. Concrete Craft gives you the opportunity to craft something yourself, which I really like."
According to David, his friend Chris Petty, who is a military veteran and franchises with Budget Blinds®, a sister brand to Concrete Craft, inspired him to pursue the opportunity with Concrete Craft. Both Budgets Blinds and Concrete Craft are part of the Home Franchise Concepts' family of home service brands, including Tailored Living® and AdvantaClean®.
"I've known Chris for many years, and he's known my wife longer than me," said David. "He was aware of our situation and how we weren't content within our current jobs. He shared how happy he was with the support from corporate with Budget Blinds, and he put me in contact with the right people."
Concrete Craft is looking to expand throughout the Southeast and surrounding states including: Kansas; Oklahoma; Missouri and Virginia — where mild weather permits working outdoors throughout the majority of the year.
Aaron Cady, who is the director of franchise licensing for Concrete Craft, says there has been peak interest in the South Carolina market from both consumers and franchisees, making it an area that's well-positioned for successful growth.
"The brand has been a huge hit in South Carolina, and we're excited to continue to grow," said Cady. "We're confident that with franchisees who are as passionate and motivated to move the brand forward as David and his wife Lindsay are, we can replicate that same kind of success in new markets."
For David and Lindsay, who prior to signing with Concrete Crafts had never owned a business, guiding their business through a pandemic crisis was initially a frightening prospect. However, amid the current home-service boom, the couple's business has been stronger than ever.
"The pandemic has actually helped our business. I think a lot of people are taking the money they would have otherwise spent on vacations and investing it in home improvements," said David. "We've been busier than we have any summer. I'm in my third summer, and every year I've seen growth."
Since signing on with Concrete Craft in 2017, David has been enthusiastic about serving his community and helping to improve his clients' property values. He takes pride in the local business he's been able to build and hopes to grow with the brand.
"I like the fact that I'm in the area where I grew up. It's a very local business, and I'm able to improve land and property values," said David. "A fourth of the customers are people I've known previously. I like the idea of being known in the community for the quality of work I can bring to those who live there."
For now, David says that he and his wife are focused on continuing the success of their current Concrete Craft location, but somewhere down the road they hope to be a part of the brand's continued growth throughout South Carolina.
"Ideally, I'd like to be able to fill another crew or two," said David. "I'd love to buy another territory in South Carolina and grow in size."
If you are interested in becoming a Concrete Craft franchise owner, Home Franchise Concepts, has been helping business-minded people build successful franchise businesses for over 25 years. Learn more about the Concrete Craft opportunity today. You can also visit Home Franchise Concepts or call 1-800-420-5374 and speak with one of our franchise licensing advisors to learn more about any of the franchise opportunities within our family of brands.