Concrete Craft Creates One of a Kind Opportunity for Entrepreneurs to Dominate the 10 Billion Dollar Decorative Concrete Industry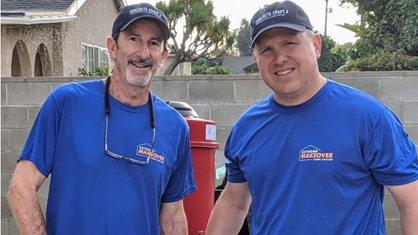 When John Kostro and Dan Lightner looked into buying a swimming pool dealership in 2006, they discovered a growing demand for unique and creative concrete options in their local Atlanta area. In the midst of their due diligence, it became clear that homeowners were tired of the boring, gray concrete around most pools. The duo decided to switch gears, bringing artful concrete resurfacing to customers' pool decks, walkways, driveways, patios and more with their company, All American Decorative Concrete.
In 2015, Home Franchise Concepts (HFC) saw the enormous potential in the customized concrete marketplace and bought All American Decorative Concrete, which had five existing franchise locations in the United States, and rebranded to Concrete Craft. For more than 25 years, HFC has been helping people realize their dream of owning a home-based business in the home services industry, resulting in a network of over 1,400 owners in more than 10,000 cities in North America and Mexico. In 2019, JM Family Enterprises, Inc. acquired HFC, making Concrete Craft the only decorative concrete franchise system backed by a large international company.
With a total of 50-plus franchise territories open in the U.S. and Canada, Concrete Craft is the only national decorative concrete brand currently franchising, meaning owners are instantly positioned as the dominant player within the $9.6 billion industry. "Television home-remodeling shows, designers and builders have brought stamped, resurfaced and stained concrete to a whole new consumer awareness level, and it's in demand among homeowners who want something custom and one-of-a-kind," said Heather Nykolaychuk, Chief Marketing Officer of Home Franchise Concepts.
Concrete Craft is also set to be featured on episodes of HGTV's Extreme Makeover: Home Edition in 2020, among HFC's other brands. "The episodes will air in March and will bring the brand a ton of new attention and name-recognition across the country," said Nykolaychuk. "We are thrilled about the boost in business that it will bring for our franchisees."
Concrete Craft is leading the emerging niche market within the lucrative home improvement sector. "Now, we are looking for qualified prospects who are eager to bring the industry's premier name in the decorative concrete space to more communities," added Aaron Cady, Director of Franchise Licensing.
While most decorative concrete companies specialize in only one process—either stamped, stained or resurfaced—Concrete Craft has mastered all three to provide a unique competitive advantage and access to multiple revenue streams. In addition to residential business, owners can take advantage of concrete commercial flooring offerings, including stamping and staining concrete in high-profile reception areas, offices, salons, restaurants and retail buildings. Luckily, because of an industry-leading training program, franchisees don't need previous concrete experience to bring this wide range of services to customers.
"Although the ideal Concrete Craft franchisee can come from any background, we don't want absentee owners," said Cady. "We want someone with business experience who is eager to work hard, build a team and follow the proven model. Our franchise opportunity features low entry and overhead costs, world-class training, flexible hours and the ability to work from anywhere."
Backed by the expertise of the JM Family Enterprises, Inc. team, the Concrete Craft training and support infrastructure is the best in the business. "Our franchisees attend two weeks of training at our 8,000-square-foot state-of-the-art support center in Irvine, California," said Cady. "Even if they aren't planning on getting their hands dirty, we make sure that all owners learn the proprietary application techniques in all three profit centers. New owners spend two weeks working on real jobs, side by side with the finest installers and trainers in the industry, learning how to manage a team and clients."
The Concrete Craft franchise support team assists new owners with marketing, licenses, advertising, payroll, office management and field-level best practices. The franchise support team engages in ongoing personal coaching and regularly conducts webinar best-practices training to keep owners up to date on trends in the industry. The brand has also developed a customized management software system, Touchpoint. Concrete Craft boasts an effective marketing plan that helps franchisees achieve their goals.
"Our commitment to advertising and marketing support provides franchisees with all of the tools they need to bring in customers, including access to preferred vendors, social media partners, printable ads and more," said Nykolaychuk. "Thanks to the marketing success on both the national and local levels, our franchise partners are super excited about the volume of leads and the boost in overall sales."
With a growing presence, it's clear that Concrete Craft is striking a chord with customers across North America. Plus, there are still plenty of available territories. "We have designed our exclusive territories for market penetration, but not saturation," said Cady. "We place franchises into an area based on total households—one for every 100,000—and ensure that no other franchise owners can do business there. There are hundreds of territories available in solid markets throughout the U.S. that would be perfect for Concrete Craft."
"Our franchisees are craftsmen," said Nykolaychuk. "We provide homeowners with a renovation service they can't get anywhere else—one that transforms the way they feel, both inside and out. Concrete Craft is an incredibly unique opportunity that positions franchisees for success and brings artistry to local communities throughout the U.S."
If you are interested in becoming franchise owner, our parent company, Home Franchise Concept (HFC), has been helping business-minded people build successful franchise businesses for over 25 years. Learn more about the Concrete Craft opportunity today. Or visit Home Franchise Concepts or call 1-800-420-5374 and speak with one of our franchise licensing advisors to learn more about any of our family of brands.