Concrete Craft Continues to Grow Throughout First Half of 2020 Despite COVID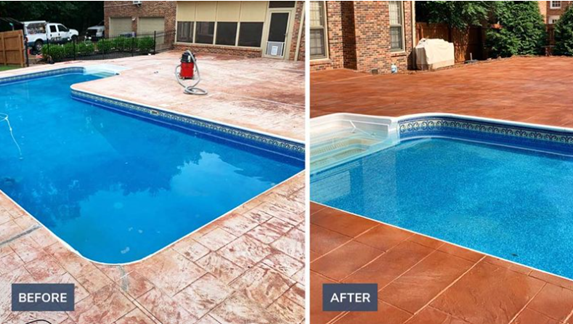 Within the decorative concrete industry, Home Franchise Concepts, the parent company of Concrete Craft, has demonstrated a dominant role with over 60 territories open in the U.S. and Canada. In spite of many business closures and strict social distancing requirements, Concrete Craft has managed to have a strong 2020 to date.
While there have been 12 new franchisee signings this year to date, only two of the signings were pre-COVID. That means the brand has managed to secure ten signings amid pandemic conditions, and the brand has no intention of slowing down. The low barrier to entry point has provided entrepreneurs with an opportunity for a quick return on investment in the summer months due to the nature of the service and, with stay at home orders, many consumers have been taking advantage of home improvement projects as they spend more time in their yards.
One drive that Concrete Craft's new franchisees seem to universally possess is the desire to diversify businesses they already have. Though some were simply seeking to own their own business for the first time, many new franchisees already owned their own companies, such as property management and construction businesses, and investing in Concrete Craft as a way to enhance their profits-and pivot into owning a successful franchise business that can provide lucrative earning potential, family business benefits, a flexible work schedule, and greater overall career security.
"With the economy in such a precarious place, business owners are looking to diversify their portfolios to break-even and eventually grow," said Aaron Cady, Concrete Craft's Director of Franchise Licensing. "The construction industry is thankfully one where jobs can be performed at a safe distance; if business owners can capitalize on that knowledge and build with us in the summer months, I think we'll continue to have a strong third quarter."
Another reason for the franchise's success has been predicated on the strength of its relationships — specifically with its franchisees and customers.
During the pandemic, franchisees have been able to count on Concrete Craft's corporate team to guide them through the storm. Chief Development Officer Jonathan Thiessen recently discussed the internal initiatives corporate has been providing to aid franchisees in this challenging time.
"We've been implementing several initiatives at the corporate level to support franchisees during this challenging time," said Thiessen. "On the business side, we've provided royalty fee relief for those who aren't able to stay open or have experienced a temporary slowdown. In addition, we've negotiated more aggressive terms with our main suppliers, from concrete to digital media providers, on behalf of the franchisees. We are also implementing comprehensive cash flow analysis exercises to make sure franchisees have the resources necessary to continue operations."
The brand has also benefited from the power of JM Family Enterprises, Inc., the parent company of Home Franchise Concepts, making Concrete Craft the only decorative concrete franchise system to be backed by an internationally recognized company. With JM Family team's support, Concrete Craft has leveraged its resources to provide step-by-step guidance on how to navigate the CARES Act and work with the SBA for financing options.
"It's certainly been a help to have the treasure-trove of resources available through JM Family Corporate," said Cady. "Our franchisees have been able to receive medical resources and advice throughout this process and have had a support staff check in on each of them at least every 48 hours. It's a tough time to be a business owner, and we wanted to ensure our franchisees feel our presence in a helpful way and mitigate any additional anxieties that come with owning a business. We're all in this together."
Networking at Concrete Craft does not stop from within; customers are also responding well to the brand's many resources and top-notch service. With a wide range of offerings, including various types of concrete — stamped concrete, resurfaced concrete stained concrete, and concrete restoration — to interior and exterior commercial flooring, customers have been able to check many of their summer rehab projects off their lists.
"You have so many people spending time at home right now and finding new improvement projects to accomplish on the daily," said Cady. "We have a diverse set of services that have customers knocking on our doors. Our franchisees are always committed to the best custom experience possible and can simultaneously meet increasing demand this summer. We're prepared to handle whatever challenge comes our way, though the fact that our business has been thriving in the months when COVID has hit hardest hasn't hurt."
Though the end of the pandemic is nowhere near in sight, Concrete Craft is set for continued growth in the third quarter. Its solid business model and concrete relationships make them a solid franchise opportunity in 2020.
If you are interested in becoming a Concrete Craft franchise owner, our parent company, Home Franchise Concept (HFC), has been helping business-minded people build successful franchise businesses for over 25 years. Learn more about the Concrete Craft opportunity today. Or visit Home Franchise Concepts or call 1-800-420-5374 and speak with one of our franchise licensing advisors to learn more about any of our family of brands.