College HUNKS Franchise: 6 Extra Fees That Add Up
In 2003, two college students started a summer business hauling away furniture and other unwanted items. They named their business College HUNKS Hauling Junk as a joke, but then thought it was pretty good.
After graduating college, they decided to turn their summer venture into a real business. They began franchising the business in 2007 and by 2021, there were 156 College HUNKS franchises in the U.S. and Canada. On their website they refer to themselves as America's fastest-growing moving franchise and highest rated junk-hauling franchise.
If you're in the market for a franchise, College HUNKS seems like a good investment. On the surface, it looks like all you need to get started is a truck and a couple of strong employees. But the College HUNKS franchise cost may be higher than you think, thanks to additional fees you might not have considered.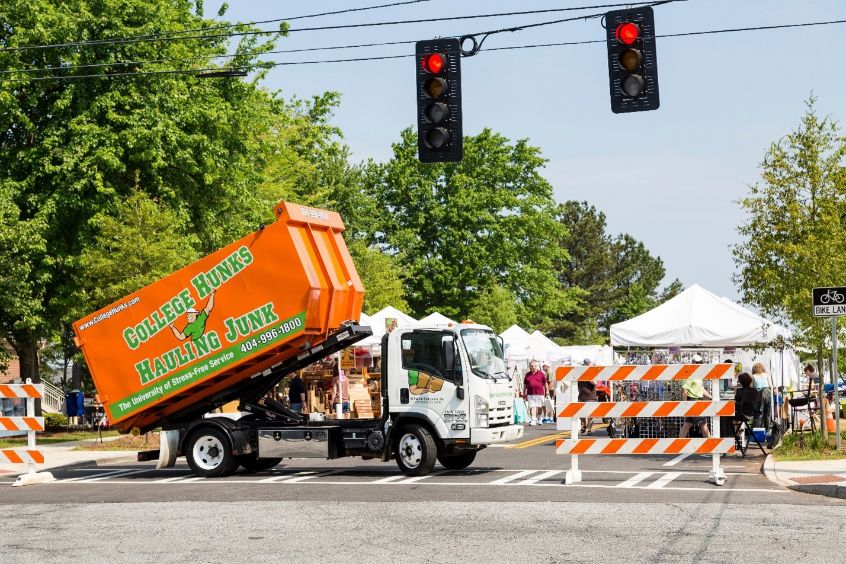 College HUNKS Franchise Cost
According to the company's website, the initial investment for a College HUNKS franchise ranges from $108,700 to $273,200. This includes the franchise fee and capital to cover six months' worth of expenses.
How much is the franchise fee? Well, that depends. While the logo brands the company as College HUNKS Hauling Junk and Moving, the junk removal and moving arms are franchised separately. If you want to do one or the other, the franchise fee is $40,000. If you want to do both, you pay $60,000.
In addition to the variable franchise fee, here are some other costs you should be aware of:
1. Software, service, and support fees. These fees also vary based on whether you own a junk removal franchise, a moving franchise, or both. You'll pay $799 per month for junk only, or $945 per month for moving only, or if you have both franchises.
2. Rent and related expenses. College HUNKS isn't a home-based franchise, so you'll need to factor in the cost of renting an office. And while this is factored into the initial investment, the ongoing monthly expense illustrates the higher monthly costs of a franchise that's not home-based. The company estimates rent will cost you between $1,200 and $3,000 a month. Other upfront costs related to this include between $2,000 and $6,000 on office supplies, and another $3,100 to $5,500 for paint and signage.
3. Additional salaries. While many companies require their franchisees to have two employees, College HUNKS require you to start with four. Double the staff means double the salaries you'll have to pay.
4. Minimum royalty payments. College HUNKS, like all franchisors, requires franchisees pay a royalty equal to a percentage of their profits. But, there are minimum royalty payments you must make, even if your business isn't earning enough to reach that amount.
5. Fees for additional territories. All franchisees are given a specific territory or zone to operate in. If, after six months in business, you want to expand that area, you can purchase an additional zone for a $50,000 fee.
6. Training fees. The company requires new franchises pay between $1,500 and $5,000 in training expenses as part of their initial investment. But at the end of the training, if they don't think you've absorbed enough to successfully run a College HUNKS franchise, they will cancel your agreement with them.
Why A Concrete Craft Franchise is a Better Option
For an initial investment ranging from $150,140 to $241,070, you can franchise with Concrete Craft.
Concrete Craft is the nation's number one concrete coating franchise. We stain, stamp, resurface, repair and restore concrete to make it look new or like more expensive materials including brick, stone, and slate.
Since Concrete Craft is a home-based franchise, franchisees are spared the costs associated with renting office space. You can start a Concrete Craft franchise with just two employees, instead of the four, saving 50% in salary costs.
Plus, as a Concrete Craft franchisee, you can take advantage of the steady home renovation market while performing a niche service, reducing your competition.
Our intensive training program consists of two weeks of training to learn everything you need to know on how to successfully run your business. The training is free for the franchisee and your installer. With Concrete Craft you also get 6 Months of professional outside coaching at no cost to the franchisee.
Explore the Next Steps with Concrete Craft
If the College HUNKS franchise cost seems prohibitive, consider investing in Concrete Craft. Contact us today and one of our Franchise Consultants will be in touch to answer your questions and explain the costs of owning a Concrete Craft franchise.