Best Franchises for Veterans: A Guide to Choosing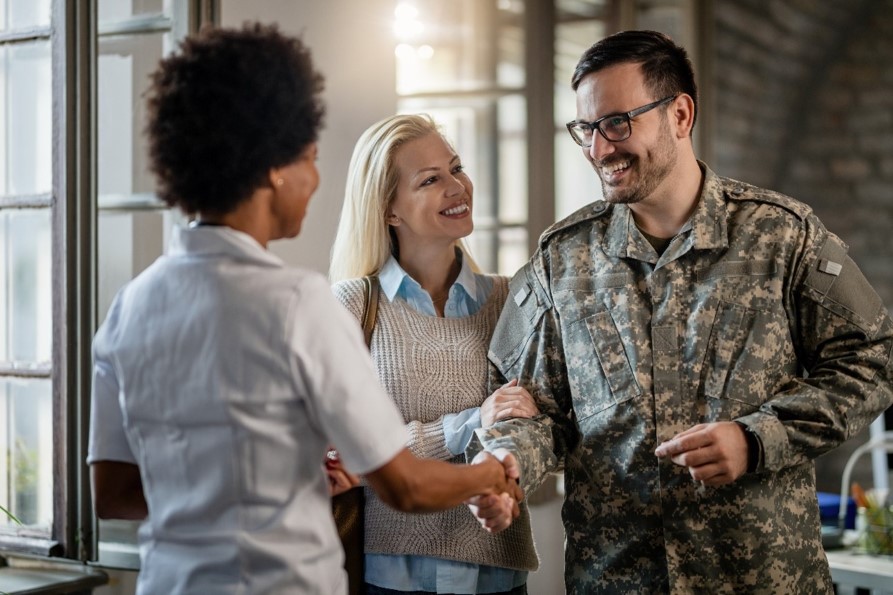 During World War II, the US Department of Labor anticipated the possibility of a postwar depression caused by 15 million service people returning home all needing to find a job. They recommended a series of programs designed to help veterans adjust to civilian life. In June 1944, just a few weeks after D-Day, President Franklin Roosevelt signed the Serviceman's Readjustment Act, or as it's better known, the GI Bill, into law. It provided WWII vets with low-cost mortgages, low interest business loans, one year of unemployment compensation and tuition to attend college or vocational school.
The influx of returning veterans, with money in their pockets and access to low-interest loans, coincided with an increased interest in franchising, leading to the franchising boom beginning in the 1950s.
Veterans' affinity to franchising continues to this day. The International Franchise Association reports 14% of American franchises are owned by veterans, even though veterans make up 7% of the population. And a study by the franchise marketing firm FranData shows that franchises owned by veterans outperform the average franchise by 25%.
Why Veterans Are Well-Suited for Franchising
As a veteran, the skills you learned during your military service make you a natural fit for franchising.
In the military, you are told what to do and you do it. There is little to no room to deviate from the plan. It is similar in franchising. New franchisees are given a precise business model to follow so the goods or services they provide are identical to that provided by the other franchises.
Military assignments change every few years. Service personnel are taught how to get up to speed in their new role as fast as possible.
In the military you need to learn how to develop high levels of trust and impeccable communication skills with your fellow service people as your life may depend on it.
The military teaches how to overcome obstacles and solve problem. Veterans learn how to quickly assess a situation, and remain calm, so they can think critically and come up with a solution.
In the service, when the going gets tough, you try harder. There is no giving up. This mental toughness, and stick-to-it attitude, helps veterans succeed at franchise ownership.
Many veterans were officers in the service. They learned how to manage a team of people with confidence and respect, while working together for a common goal.
These skills make veterans like you very appealing to franchisors. In 1991, the International Franchise Association established the Veterans Transition Franchise Initiative (VetFran) to encourage more veterans to join franchising. Its members offer financial incentives, education, and support to help vets get started.
Why Franchising Appeals to Veterans
Many veterans leave the service with the desire to get started on the rest of their life. If your goals include business ownership, franchising lets you get there faster. By buying into a recognized brand with a proven business model, you get your business up and running faster and you increase your chances for success.
Another perk is flexibility. After years in the service, possibly overseas, you probably want to spend more time with your loved ones. Many franchises, especially the ones with a work from home model, allow you to schedule your work around your other priorities.
The support of the organization can be a big draw for veterans. Many franchises are proud of their tight-knit family-like support system between franchisees, which may be similar to what you found in the military with your fellow service members.
Probably the biggest draw is the financial assistance available to veterans who want to buy a franchise. The Small Business Program has a Veterans Advantage Program which helps veterans get loans. In addition, there are hundreds of franchises claiming to be one the best franchises for veterans that offer veteran discounts, including a 10-20% discount on the franchise fee. Other franchises may waive it entirely. When you find a franchise that you're interested in owning, be sure to mention you are a veteran and ask about any special incentives they offer.
However, make sure you know what you can afford. Even with the discount and the special financing, some franchises may be too pricey for your budget. If, for some reason, your franchise fails, you don't want to have your home or your life savings on the line.
The Best Franchises for Veterans
There are lists of the best franchises for veterans, but you need to dig deeper and find the best franchise for you. Do you want to run a local retail establishment or restaurant where you're there greeting customers every day? Or would you rather have a business where you can work from home and set your own schedule?
The computer skills you learned in the military may make you a natural for something in the tech world. If you want to spend your days outside, you may want to try landscaping. If you enjoy tinkering with cars, there's auto repair franchises. And there's plenty of opportunity for veterans who used to be in construction to put those skills to use.
Concrete Craft: One of the Best Franchises for Veterans Like You
Concrete Craft is the nation's leading decorative concrete franchise. Our proprietary stamping, staining, and resurfacing techniques transform ordinary concrete, so it resembles more expensive materials like stone, brick, tile, or even hardwoods. As part of the booming home services industry, demand is high, and as a niche business, there aren't a lot of businesses providing decorative concrete services
You don't need to know anything about concrete, or even construction, to own one of our franchises. Our intensive training program will teach you everything you need to know to perform the work, and to run the business.
Get Started with Concrete Craft Today
To find out more about Concrete Craft and see why it would make a great investment for a veteran like you, contact us today. One of our franchise advisors will be in touch to explain the benefits we offer for veterans and help you get started on the road to franchise ownership.