5 Ways the Renovation Industry is Thriving and How to Get In
The home renovation industry continues to expand rapidly as more and more homeowners choose to upgrade their existing homes rather than move. In fact, a recent study suggests that of those who have lived in their homes for longer than six years, 61% will choose to renovate instead of move. This trend in home renovation has propelled the renovation industry forward- and in a big way.
While it's no secret that homeowners have traditionally looked to home improvement projects and renovations as a way to boost their home's market value, other factors have come into play as well. Let's take a closer look at what's driving this boom in the renovation industry, and how, as a potential franchise owner, you can take advantage of an industry that is projected to thrive for years to come.
More homeowners are spending more time at home.
Over the last 18 months we've seen a seismic shift in the day-to-day operations of our world. Offices have shuttered, daily commutes have all but ended, and we tried to do it all—from schooling to fitness workouts to vacations—in our homes. According to a recent study, over 36 million Americans will be working from their homes by 2025, which is an 87% increase from the number of remote workers prior to the pandemic. With this trend, it's no wonder more and more Americans are thinking about renovation projects than ever before.
Increased market value continues to motivate homeowners.
The renovation industry has always benefitted from homeowners who are looking to increase their home's market value. That's because for many people, the home is the epicenter of their financial world, and their largest and most important investment. Homeowners realize that making smart decisions about upgrades can have a positive long-term effect on their home's market value. Naturally, homeowners should balance their expectations regarding increasing market value, but with the wide variety of popular home renovations- whether remodeling a kitchen, adding a bonus room, or new outdoor hardscaping, the renovation industry will continue to see robust activity based upon homeowners looking to add market value to their home.
Home renovations offer an affordable lifestyle enhancement.
The right home renovation can provide homeowners with an enhanced lifestyle. Kitchens and bathrooms are two key living spaces which are especially popular, but there are several options for lifestyle upgrades, including closets, patios, driveways, and much more. Even renovating an entryway can make a big difference in terms elevating one's everyday routine. From entertaining with friends to providing greater comfort and enhanced surroundings for the family, more and more homeowners are choosing to upgrade their existing house to simply enjoy the comforts of "home".
Home renovations can help prepare for new family members.
More than ever, families are seeing their home expand in terms of family members, which also spurs the need to explore home renovations. A recent study by a leading research firm, The Pew Research Center, revealed that for the first time since the Great Depression, a majority of young adults in the U.S. between the ages of 18-29 live with their parents. This trend motivates homeowners to take that next step in adding another bedroom, expanding a patio, or other indoor/outdoor living space. And let's not forget the arrival of a new baby. Although a new baby is one of the single most exciting moments in life – it also comes with unique stresses and pressures, and oftentimes a home renovation helps solve this challenge.
Sometimes a re-fresh is in order.
Living in the same home can get tiresome after a while. Some homeowners aren't necessarily renovating because they want to increase their market value, or necessarily change their lifestyle. Rather, they simply feel it would be nice to have a change. Whether it's upgrading the countertops, opening up the floorplan, or adding an outdoor patio/kitchen, home renovation can freshen up a home's interior or exterior and create an exciting new look.
Which types of businesses in the home renovation industry are most profitable?
While many factors need to be taken into consideration to determine profitability in a home renovation business, recent industry activity and trends suggest some renovation businesses are outperforming others. These include landscaping architecture, exterior painting, window coverings, kitchen and bathroom remodeling, and decorative concrete. One example of the growth in the decorative concrete category is the home services brand Concrete Craft®, which has continued to experience exponential growth during the pandemic, as homeowners are spending more time at home and looking for ways to beautify the place where they spend most of their time, including making their patios additional living and entertaining spaces. Concrete Craft are experts in stamped concrete, resurfaced concrete, stained concrete, and concrete restoration, and is the largest decorative concrete franchise in North America which recently announced its continued expansion with the launch of its 100th territory. One of their primary competitive advantages stems from their exclusive processes, and proprietary products and techniques, which includes a hand-cut and custom-colored system that produces a lasting finish that simulates the look and feel of natural stone and wood.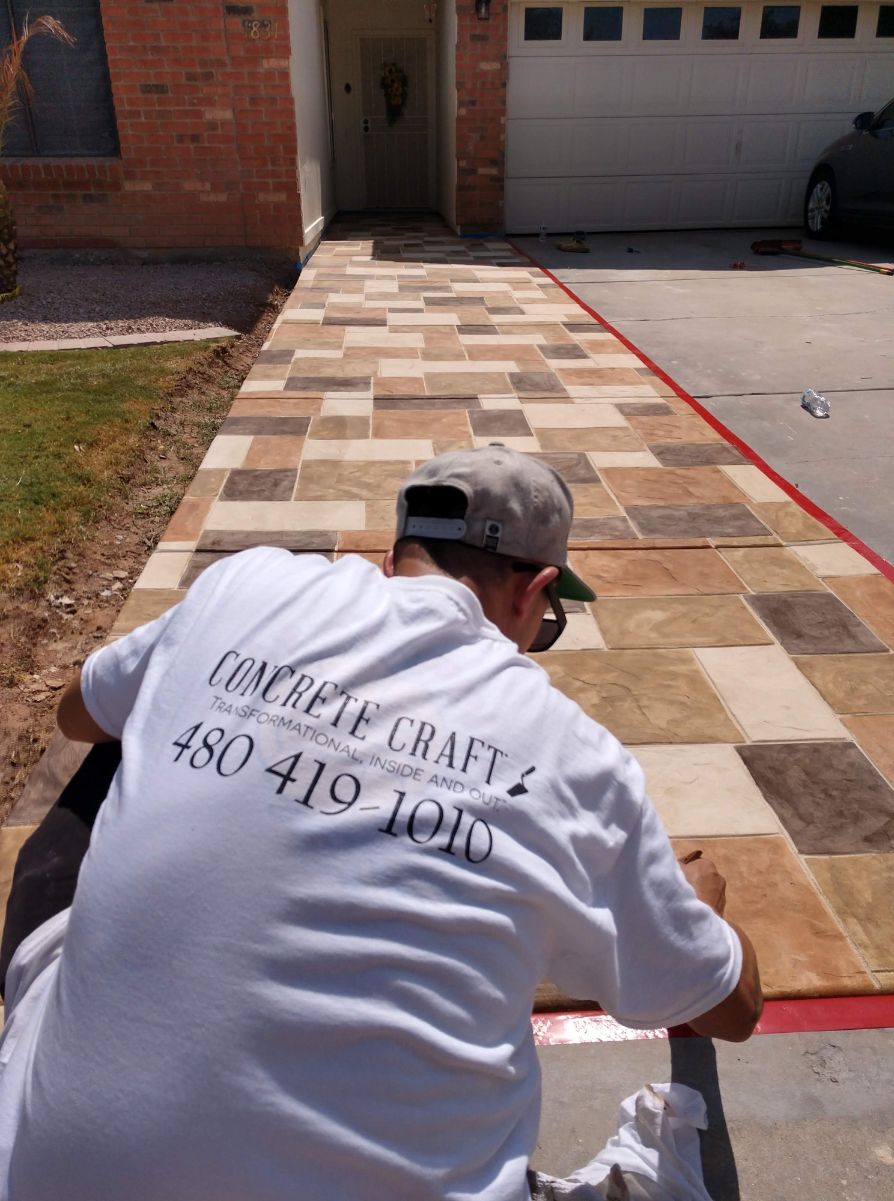 There's no better time than now to get started with owning your own business in the home renovation industry.
With a resurging economy and the explosive growth in the renovation industry, now is the perfect time to explore the exciting advantages that come with owning your own home-based renovation franchise. From offering the balance of a flexible work schedule, to setting you up on your path to a secure economic future, to creating a family legacy business for the next generation, owning your own business in the growing decorative concrete industry may be more attainable than you think. Concrete Craft continues to expand as the leader in decorative concrete and we're looking for those like yourself who have that "can do", entrepreneurial mindset. Explore the Concrete Craft opportunity online. One of our franchise licensing advisors will be happy to answer any questions you have and assist you with evaluating whether owning a Concrete Craft franchise is right for you. You can also visit Home Franchise Concepts (HFC) , the parent company to Concrete Craft, to learn more about franchise ownership with our sister brands in the rapidly growing home renovation industry.