5 Reasons to Invest in a Concrete Craft Franchise in 2020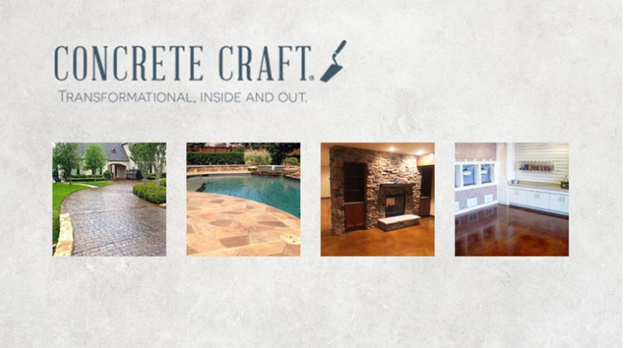 Prospective business owners who want to help consumers spruce up their homes will find a wealth of opportunities and corporate support in Concrete Craft.
Concrete Craft specializes in stamped, stained and decorative concrete overlay services for both residential and commercial properties. The company got its name in 2015 when parent company Home Franchise Concepts (HFC) purchased an independent company called All American Decorative Concrete and rebranded it to cater to a growing clientele that wanted beautiful concrete solutions for their properties.
Today, Concrete Craft has over 50 points of presence across the U.S. and one in Canada with plenty of room for more franchisees who want to be the concrete go-to experts in their communities.
Here are five reasons to invest in a Concrete Craft franchise in 2020.
A wide range of services
Concrete Craft may be a young franchise, but the company offers customers a long list of services for various types of concrete, including stamped concrete, resurfaced concrete and stained concrete. The brand also offers interior and exterior commercial flooring. From swimming pools to patios to walls to fireplaces to basements, Concrete Craft can handle a wide variety of interior and exterior projects.
"We're seeing the tip of the iceberg in terms of the applications for the products and the diversity of the product line," Chief Development Officer Jonathan Thiessen said. "When franchisees start looking around their markets, they'll see opportunities for concrete repair and refresh everywhere they go, and so we're developing more and more in the way of new concepts to meet those needs."
A low barrier to entry with a quick return on investment
Concrete Craft franchisees only need a few resources to start their businesses: a small warehouse for inventory, a pickup truck and basic tools, plus money for marketing their business within their territories. Once franchisees open their doors for business, they often see a rush for services.
"Quite honestly, our franchisees are experiencing a tremendous demand for their services and find themselves getting booked up shortly after training," Thiessen said. "Concrete Craft has all of the components that a lot of budding entrepreneurs are focused on right now. The low initial investment and overhead, combined with strong margins on our exclusive products, give our franchisees a great opportunity to shorten their ramp up time."
Recession-resistant business model
It's virtually impossible for anyone to ignore a crumbling structure, which is why a business like Concrete Craft is well-positioned to be considered a necessary service in any economic climate. The brand can also repair and restore damaged concrete in an efficient, cost-effective way. New concrete usually takes up to 30 days to harden, but Concrete Craft uses proprietary repair and restoration systems that take as little as three days to complete, weather permitting.
The brand is also continuing to thrive during COVID-19. Since more consumers are working from home, they have been even keener to tackle home projects. Concrete Craft can continue to serve them during this time while respecting social distancing guidelines.
"Structural damage is dangerous, especially in a commercial space, and needs to be replaced and repaired immediately, regardless of extenuating circumstances," Thiessen said. "Fortunately, we're well-positioned to offer our customers quick and professional solutions that won't disrupt their lives too much."
Lack of competition
Concrete repair and restoration companies are typically mom-and-pop enterprises that can provide inconsistent customer experiences. Since Concrete Craft franchisees benefit from the support of HFC, they are well-positioned to offer customers a more organized and elevated service.
"No other concrete enterprise has a national footprint like we do and offers customers the quality that we can," Director of Franchise Licensing Aaron Cady said. "This creates a lot of opportunity for our franchisees."
Strong corporate support system
Concrete Craft franchisees benefit significantly from HFC leadership guidance and support. Thiessen noted that franchisees even stay in regular contact with the brand's original founders and current presidents, John Kostro and Dan Lightner. And while Concrete Craft is an emerging brand, it has all of the benefits of a large organization thanks to HFC, including legal and marketing support. Franchisees also enjoy close relationships with each other.
"Our franchise system is really a family," Thiessen said. "The bond between our franchisees is very strong, and they frequently reach out to each other to ask questions and get feedback."
With a strong business model that can survive just about any economic climate and plenty of available territory for expansion, Concrete Craft remains a solid franchise opportunity in 2020.
Learn more about the Concrete Craft opportunity or any of the Home Franchise Concepts family of brands by calling 1-800-420-5374 to speak with one of our franchise licensing advisors.