Craft Your Own Future with a Concrete Franchise
Where Design and Craftsmanship
Join the #1 Concrete Coatings Franchise
Transformational. Inside And Out.
Ready to Craft Your Own Future?
Get In On a $326 Billion Industry
Take advantage of Concrete Craft's unique place in the fast-growing home improvement marketplace. We consider ourselves craftspeople who bring artistry to the world of concrete with stained, stamped, and hand-carved resurfaced concrete overlays. More than $326 billion was spent beautifying outdoor living spaces in 2021. By 2023, concrete hardscaping applications are projected to hit $2 Billion. Concrete Craft's exclusive decorative concrete services and proprietary products are exactly what homeowners and commercial businesses are looking for when enhancing their properties.
85 Franchise Territories and Growing
Concrete Craft is currently the largest decorative concrete franchise in the nation. Since joining Home Franchise Concepts in 2014 our size has tripled. We are now more than 85 franchises strong throughout the U.S. and Canada. A proven home-based franchise opportunity, our award-winning home service brand provides lucrative earning potential, a flexible work schedule, and greater overall career security as your own boss.
Hear About the Opportunity From Our Leadership Team
Our Unique Franchise Opportunity
We have what customers want and are unique in the marketplace. Homeowners and commercial businesses seek us out to beautify and bring value to their property's interior and exterior concrete surfaces. There's no other concrete franchise that offers what we do. Benefit from a national brand, where you and your team will have the experienced, professional support of a company that is highly regarded, ranking #1 in its category on the Entrepreneur Franchise 500®. Concrete Craft is a low-cost concrete franchise with minimal inventory, low overhead, and no need for a brick-and-mortar location.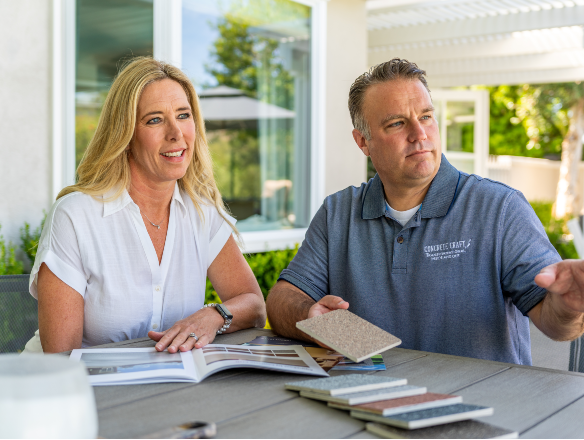 Invest in You and Love What You Do
You can own a Concrete Craft for an initial investment of just $69,950. This covers your franchising license and an exclusive, protected territory with at least 100,000 homeowners plus commercial businesses. You don't need a background in construction to run your own Concrete Craft business. All you need is an entrepreneurial spirit, be goal-oriented, have a head for businesses and can manage a crew. As a franchise owner, you also get everything you need to run your new company – comprehensive training, established vendor relationships, expert marketing assistance, and on-going support.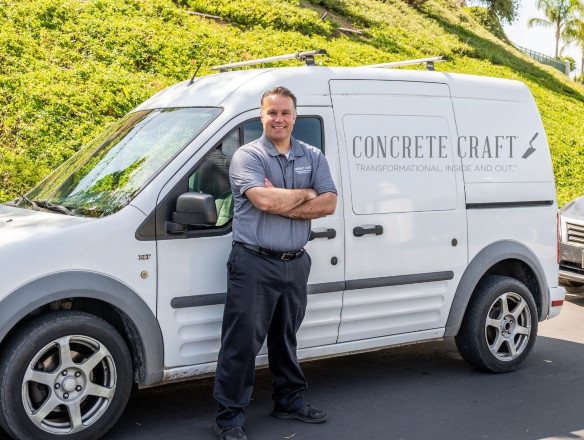 Join the #1 Concrete Coating Franchise
Concrete Craft is proud to be an award-winning franchise brand and part of the Home Franchise Concepts family of home service brands. Home Franchise Concepts is subsidiary of $18B-strong JM Family Enterprises, Inc. and offers stability, leadership, and business opportunities that can't be equaled with any other franchisor. See more of our awards and accolades.